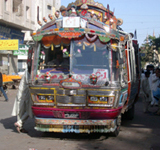 S
M
T
W
T
F
S
1
2
3
4
5
6
7
8
9
10
11
12
13
14
15
16
17
18
19
20
21
22
23
24
25
26
27
28
29
30
31
カテゴリ
PJAM2012
3.11 Earthquake
Archaeology(English)
India2011
日々のできごと/ Daily life
アジア/ Asia
おでかけ/ Japan
南アジア考古学/SA Arch.
野川・多摩川/RegionalStudy
旧石器考古学/Palaeolithic
砂川・武蔵野台地北部
考古学(ジオ)
考古学(いろいろ)
雑記
最新の記事
最新のトラックバック
以前の記事
2012年 08月
2012年 04月
2012年 03月
more...
ライフログ
Ninja analyse
その他のジャンル
ファン
記事ランキング
ブログジャンル
画像一覧
カテゴリ:南アジア考古学/SA Arch.( 18 )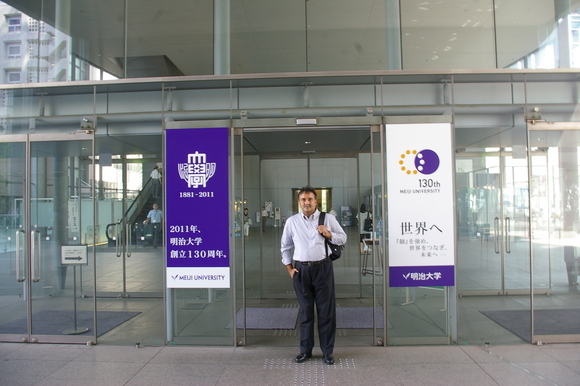 On 6th July, we have taken the 3rd lecture of Porf.Mallah, titled 'Earliest chert extracting quarries: a view from archaeological exploration in and around Rohri Hills, Sindh, Pakistan' (
abstract
).
(right: Prof.Mallah in front of a University building in which University Museum is.)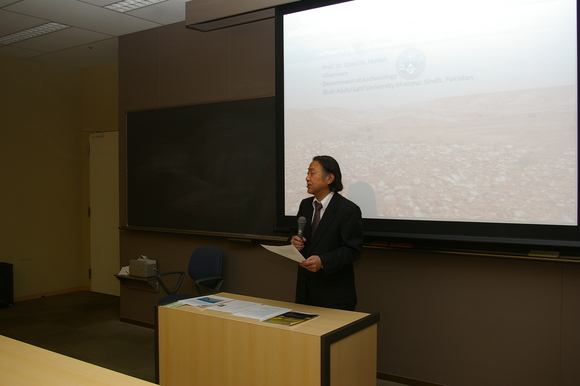 Opening address by Prof.Yajima.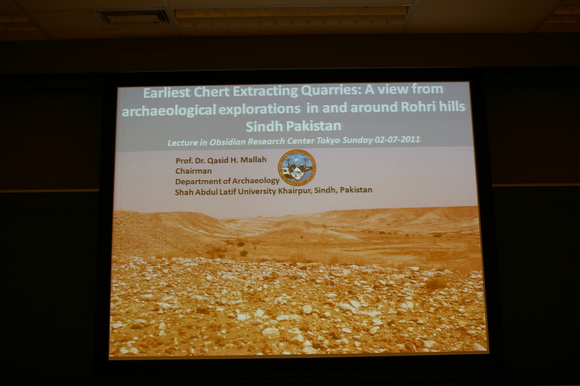 (left:Prof.Mallah and participants.)
This lecture was held in collaboration with Meiji University Centre for Obsidian and Lithic Studies.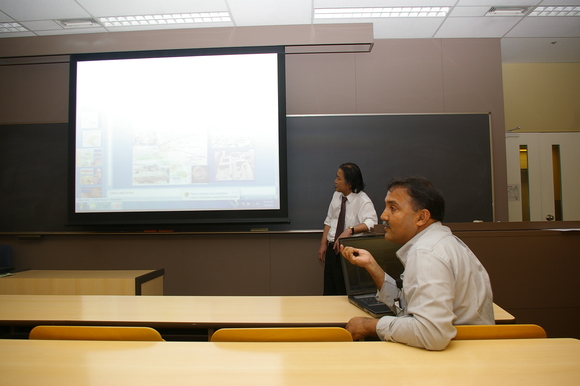 The Centre investigates
Takayama
obsidian source sites including cluster of Jomon obsidian quarrying pits.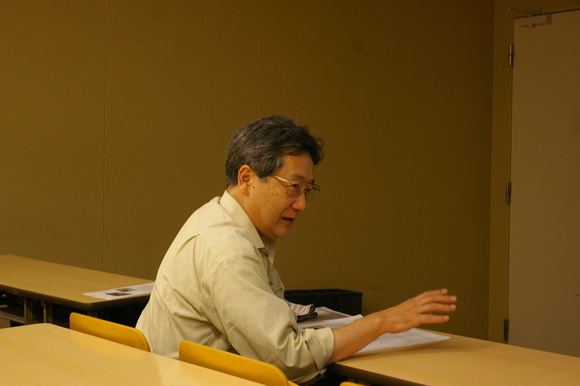 (left: Prof.Dr.Ono, president of the Centre for Obsidian and Lithic Studies, in discussion)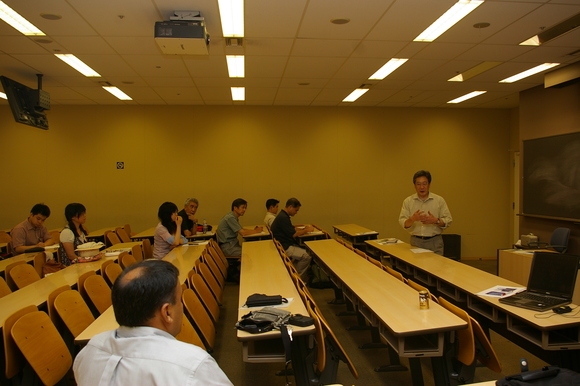 (right:concluding remark by Prof.Dr.Ono.)
(below: Prof.Mallah and participants)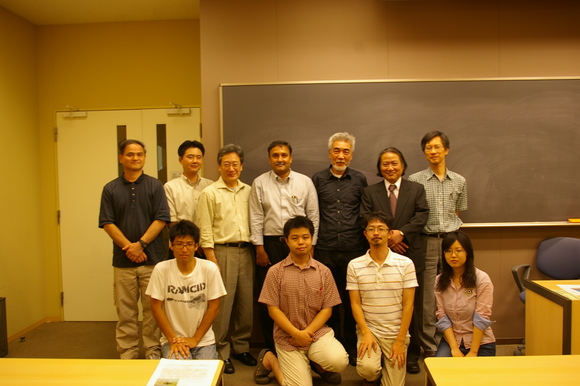 Comparative study with Rohri,
Takayama
and other regional cases is one of the challenges for lithic studies.
This was the last lecture of Prof.Mallah in Tokyo. On 7th July evening, we had farewell party in a Soba restaurant at Shinjuku. Then Prof.Mallah has left from Tokyo. During his stay in Tokyo, we had much discussion on many issues. I hope that he got much things in Japan.
And we promise to keep close relationship and to make effort for future collaboration. I wish to see him in Pakistan, next time! :-)
 来日中のQ.H.マッラー教授と打ち合わせながら、ウェブ・サイトを構築中です(
こちら
)。
 今のところ、まだマッラー教授の東京での講演に関する限られたコンテンツしか利用できませんが、目下の目標は... Heritages of Sindhのセクションを構築することです。
 6月26日の講演でご紹介いただいたとおり、パキスタン・シンド州には、前期旧石器時代から近代(19~20世紀)まで多数の考古遺跡、文化遺産がありますが、その多くが危機的状況に直面しています。その中には、十分な調査・記録がまだなされていないものもあります。
 そこで、それらの遺跡・文化遺産を周知し、また研究や保護・活用に利用できるリソースを集約するためのプラットフォームとして、ウェブ・サイトを利用したい、というコンセプトです。
 まだまだ、写真の整理、基礎データの整理と検証に時間がかかるため、今すぐ公開、というわけにはいかないのでとりあえずコンセプト、イメージだけご紹介。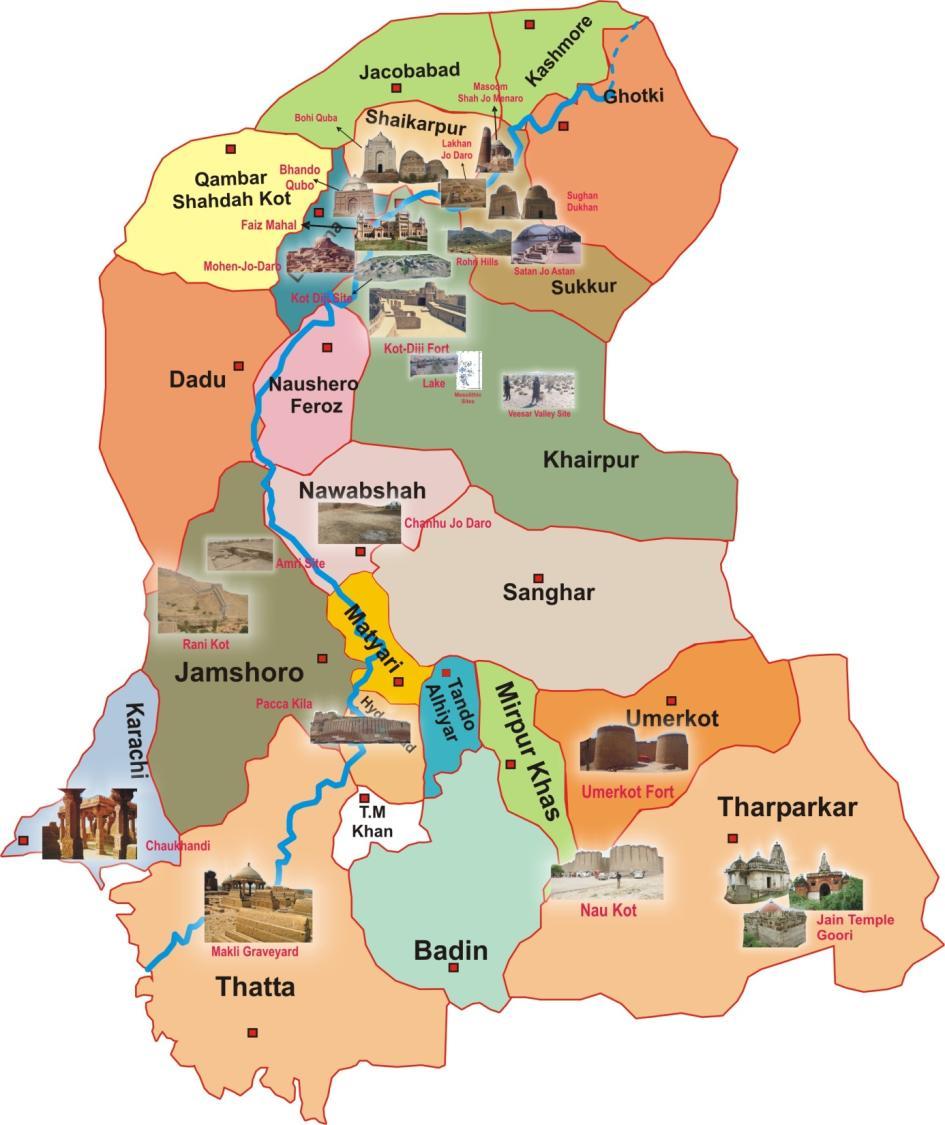 マッラー教授作成の文化遺産地図をクリックすると、それぞれの遺跡・文化遺産の紹介ページが開くように設計しています(これは地図だけです)。もちろん、地域や時代、名前からもリンクをたどれるようにします。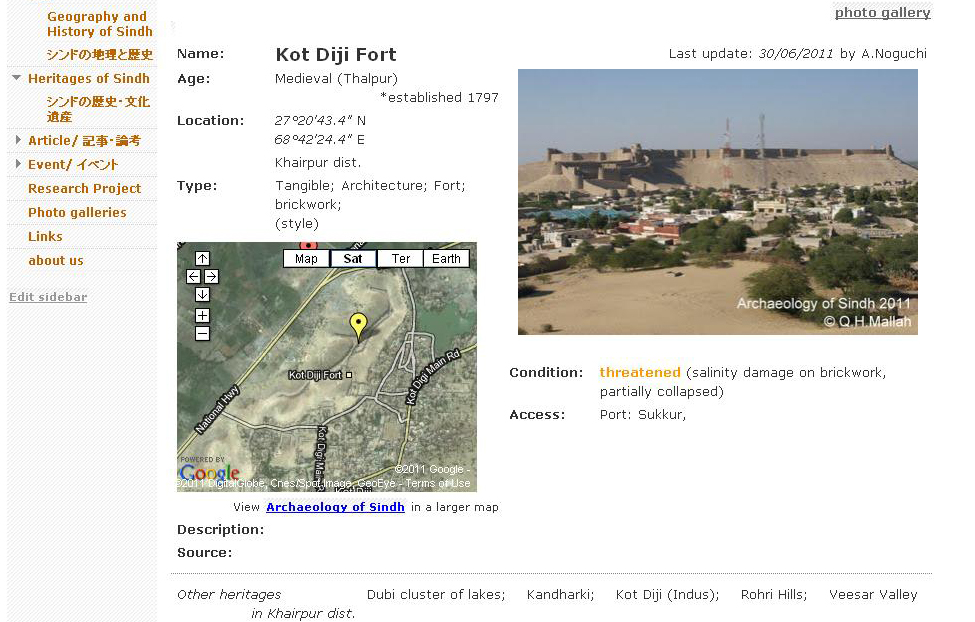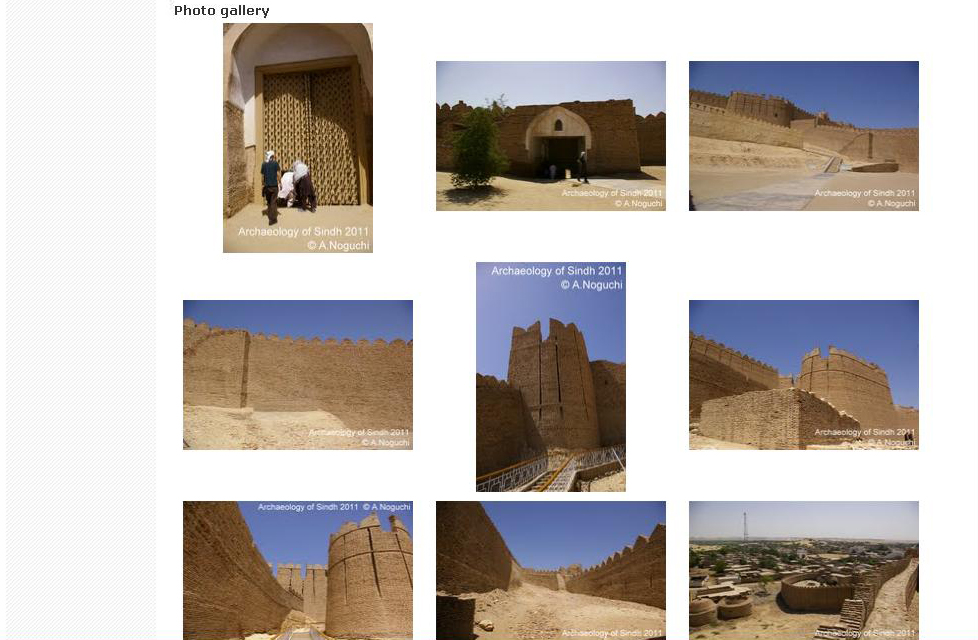 たとえば、ハイルプール県(Khairpur district)にある18世紀末のKot Diji Fortをクリックすると、これらの基礎データと写真が表示されます。Google map上にも位置のデータを入力中。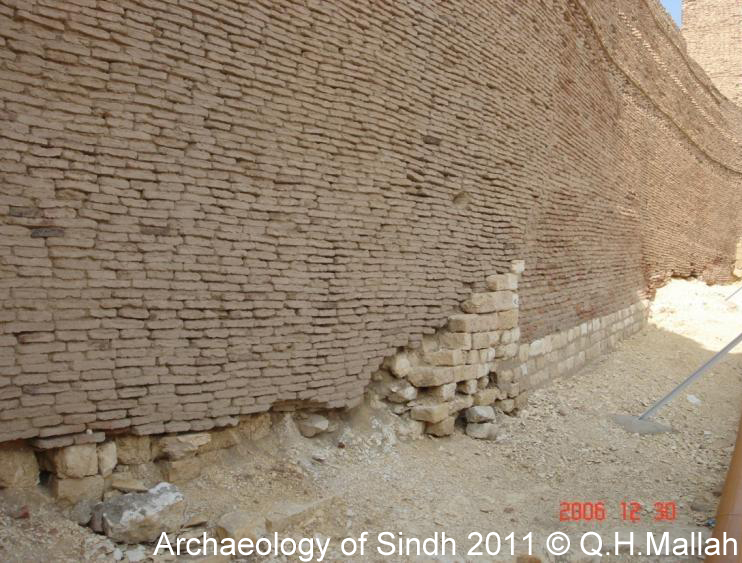 Kot Diji Fortの写真の一部。立派な焼成レンガ積の城壁が塩害によって基礎の部分から崩落し始めています。
 こうした状況を広く周知することが課題です。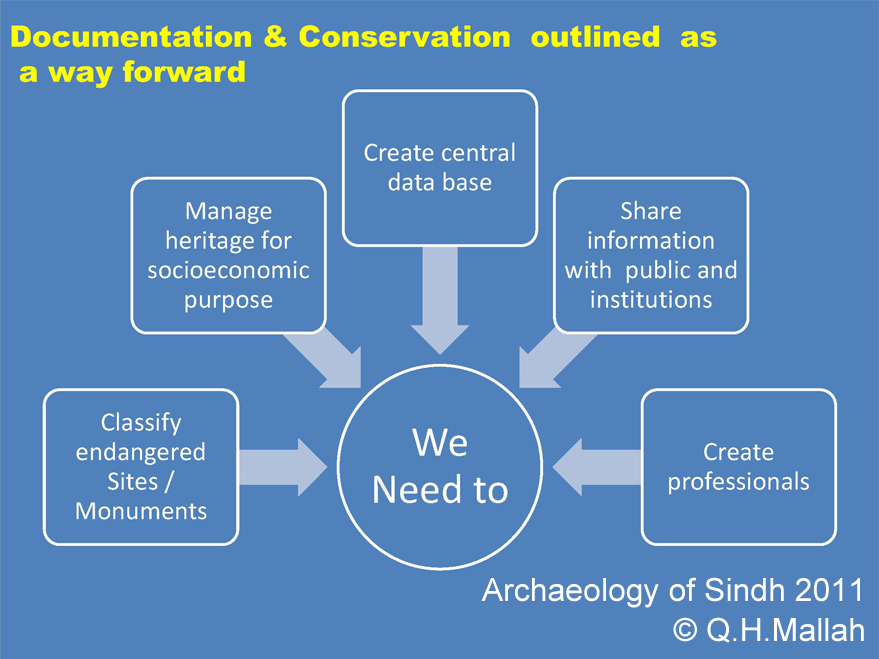 Q.H.マッラー教授による遺跡・文化遺産の記録・保護のスキーム。これが、わたしたちのウェブサイトの基本コンセプトです。
 しかし夜中にしこしこと画像をいじったり、HTML打ち込んでるのでなかなか進まないですね;
Now I'm arranging our web-site "
Archaeology of Sindh
" in collaboration with Prof.Q.H.Mallah from Shah Abdul Latif University, Khairpur, Pakistan.
For the moment, we share only limited contents. However our main focus is to construct 'Heritages of Sindh' section. Sindh has plenty archaeological sites and cultural heritages including UNESCO world cultural heritage; Mohenjo Daro site and Makri Hill necropolis complex. But we can touch less information of other sites, monuments or intangible cultural properties. Even some of them are faced to threat of destruction... So we plan to open our web-site for platform of sharing information. We believe this web-site will be helpful for documentation and conservation of heritages in Sindh.
We will arrange clickable map (as shown above) and other index, then basic information of each sites, monuments or intangible cultural properties as sample screen capture.
Now I'm arranging photos for archive and location of each sites. Also we ask some expert to improve our description. It is not easy work for us. But we are eager to complete it. Please wait for a moment. We will share a part, step by step.
And if you want to join us, please make contact. We welcome all people those who are interested with Archaeology, History and Arts of Sindh!!!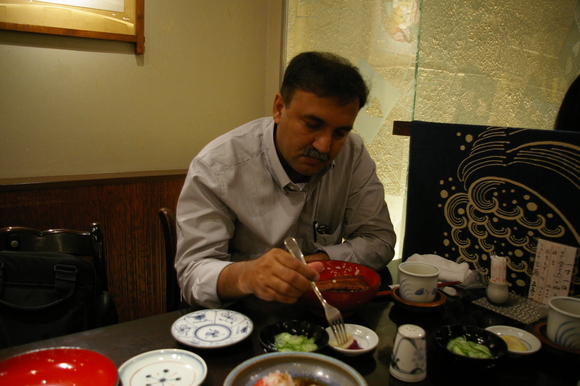 On 2th July, we have taken the 2nd lecture of Prof.Mallah, titled "An Overview on the Recent Archaeological Research in Northern Sindh, Pakistan". Before lecture, we had lunch at
Unagi
(eel fish) restaurant at Shinjuku. How it taste?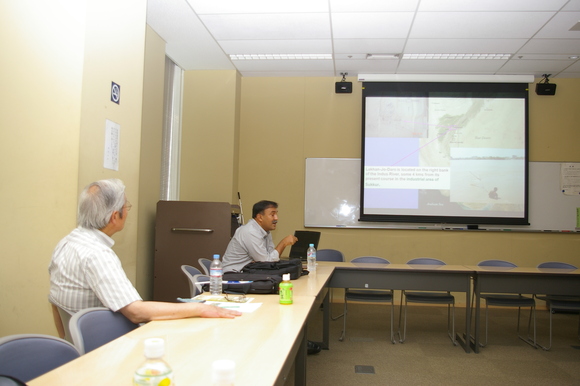 The lecture focused on archaeological investigations of Indus age sites in Thar desert and Indus Plain.
I cannot show detail here. It will submit to the journal of
Indo-kouko-kenkyu
.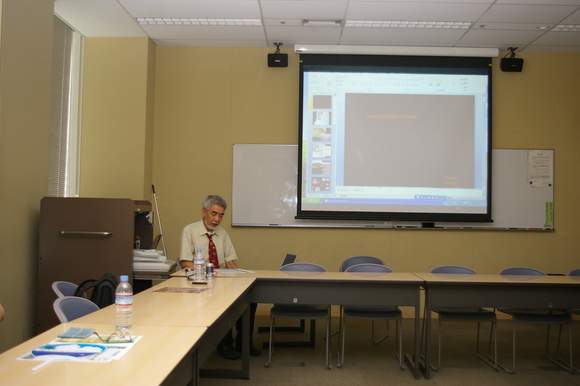 Prof. Mallah and his department continue the exploration in Thar Desert and find out so many sites especially along Nara, assumed ancient Hakra River. These are including beads workshop and copper processing sites.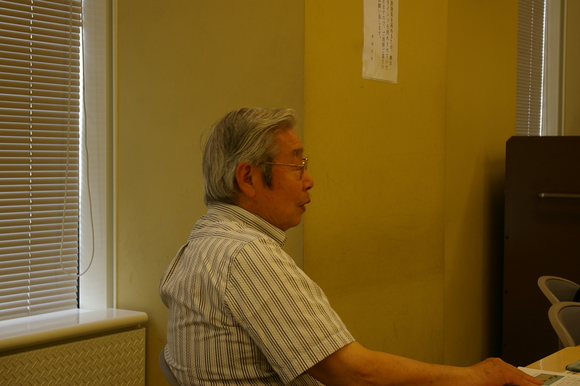 Also Prof.Mallah shew us their achievement at Lakhan-Jo-Daro site in Sukkur district. They uncover some Indus seals and other objects with scripts. The site is so rich.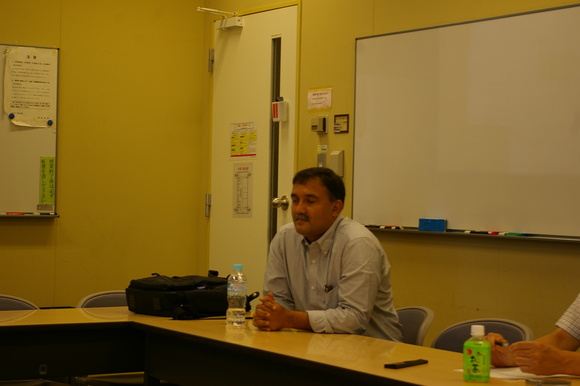 Now we know there are another "city" in Indus Plain during Mature Harappan period.
After brief comment by Prof.Kondo, we discussed on some issues; course of ancient Hakura River and environment, possibility of river transportation, and nature of sites in Thar Desert area.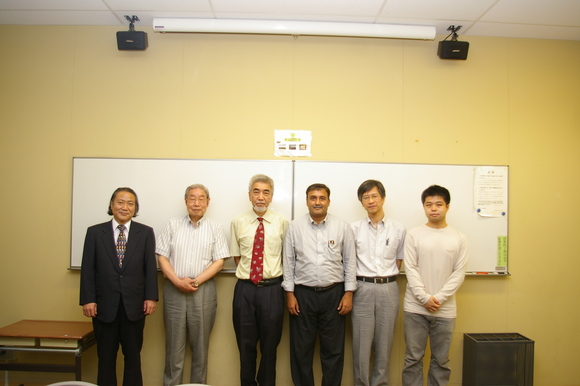 (Participants of the lecture)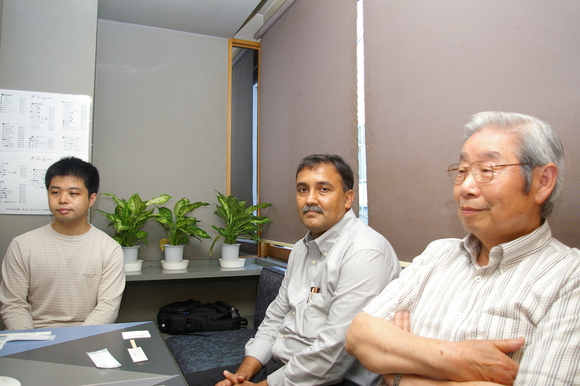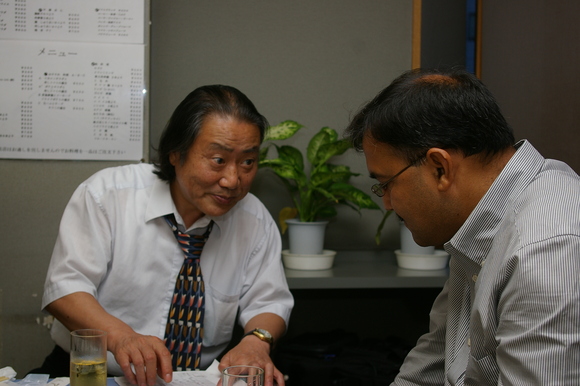 Then we moved to restaurant to have dinner and to continue discussion. It is also rich and excellent lecture. Thank you Prof.Mallah-san!
 本日(7/2)は、マッラー教授の明治大学での2回目の講演「パキスタン、シンド州北部における最近の考古学的調査」でした。参加者は残念ながら(かなり)少なめ。ただ、その分、きわめて濃厚でマニアックな議論が交わされました。
 講演の内容は、『インド考古研究』に投稿される予定です。とりあえずさわりだけ...
 まず1つめは、マッラー教授がシャー・アブドゥル・ラティーフ大学考古学研究室で進めているタール砂漠地域の遺跡踏査の成果。かつてのハークラー川の下流部と目されるナラ水路の左岸も含めて、いくつものインダス文明期およびその直前の遺跡が発見されており、その中には、銅の精錬址や、ビーズ製作址も認められるとのこと。これまで遺跡の空白地帯だった地域だけに、非常に注目されるところです。
 もう1つは、これもシャー・アブドゥル・ラティーフ大学考古学研究室が、パキスタンの他の大学との共同調査も含めて進めている、Lakhan-Jo-Daro遺跡の発掘調査成果。ここでは、いくつものマウンドから構成される遺跡の中でビーズ工房址を含む建物群や排水路を備えた道路などからなる都市の一角が発掘されています。中でも、いくつも見つかっているインダス式印章や、そのほかインダス文字が記された遺物の存在が注目されます。
 インダス平原、とくにマッラー教授の主たるフィールドであるシンド州北部は、おそらくインダス文明の成立において重要な鍵を握る地域なのですが...今後も、さらなる新発見がもたらされることでしょう。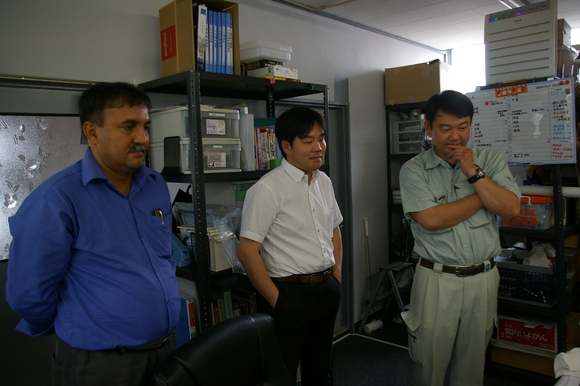 On Thursday, we have been to Ibaragi Prefectue, to visit Mitsui Kousoku Co.,Ltd. It is a measurement survey company specialized to archaeological investigation and cultural heritage management.
Mr.T.Mitsui, CEO is on the left side, Prof.Mallah is on the right side of the photo. Centre is Mr.T.Kawaguchi, archaeologist from the educational board of Mito City.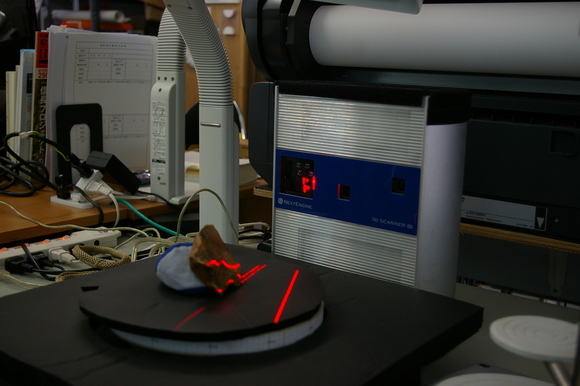 Our first aim to visit them is this 3D laser scanning system. They introduce a compact and reasonable product of
NextEngine
.
It seems suitable for measurement and documentation of artefacts. On a sample case of stone tool, time cost of all procedure (including measurement and alignment) was about 20 minutes.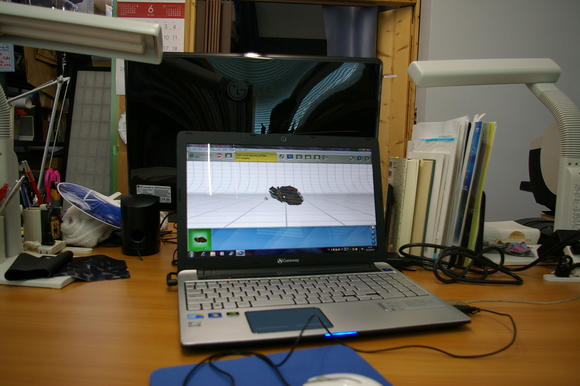 Then we can get 3-dimensional model of stone tool. This will help constructing multi-dimensional digital archive of artefacts. We were wandering its potential and future.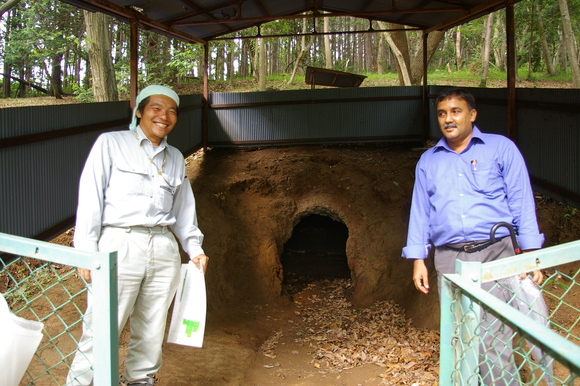 The company also has rich experience in total survey procedure for investigation and management of archaeological site.
After brief instruction, we have visited their practical case; Kawarazuka roof tile kiln cluster site at Ishioka City, Ibaragi Pref. The educational board of Ishioka City is now carrying investigation and preservation project on the site for those 5 years and Mitusi Kosoku Co.,Ltd. provide wholly support for measurement survey. The man who covered his head with blue cloth-Mr.Daisuke Kosugiyama is the archaeologist working on the project (and he is junior of my department...).
Their framework and procedure is as following;
1) estimating area and distribution of buried kiln by combination with topographic survey, geophysical probing and documentation of artefacts distribution on surface
2) sounding by test trench, confirming estimation;
3) excavation of selected kiln to document its composition with 3-dimensional measurement by total station system and orthographic photos;
4) some kiln are preserved after excavation to open public, other kiln are re-buried for protection against weathering or erosion.
In future, they will extend their investigation area for searching workshops and settlements. Also they are planning to arrange observatory of kiln, museum and other facility for public. The site is situated in well-preserved landscape. They will achieve so many efforts, I believe.
And now Prof.Mallah should be considering how he introduce those system and procedure for his field...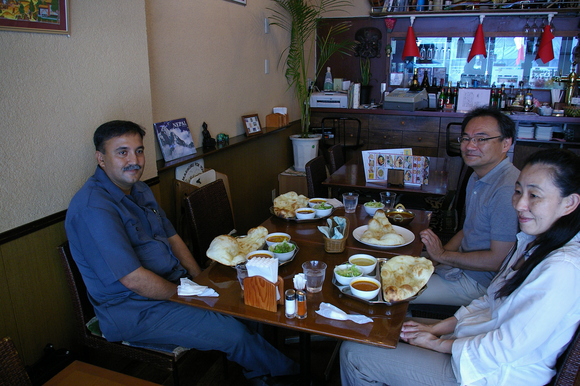 On 28th June, we have visited Archae-Research Co.,Ltd. at Itabashi ward, Tokyo.
At first we had our lunch at 'Indian' restaurant managed by Nepali resident... In Japan, we have so many 'Indian' restaurants but some of them should be Pakistani or Nepali...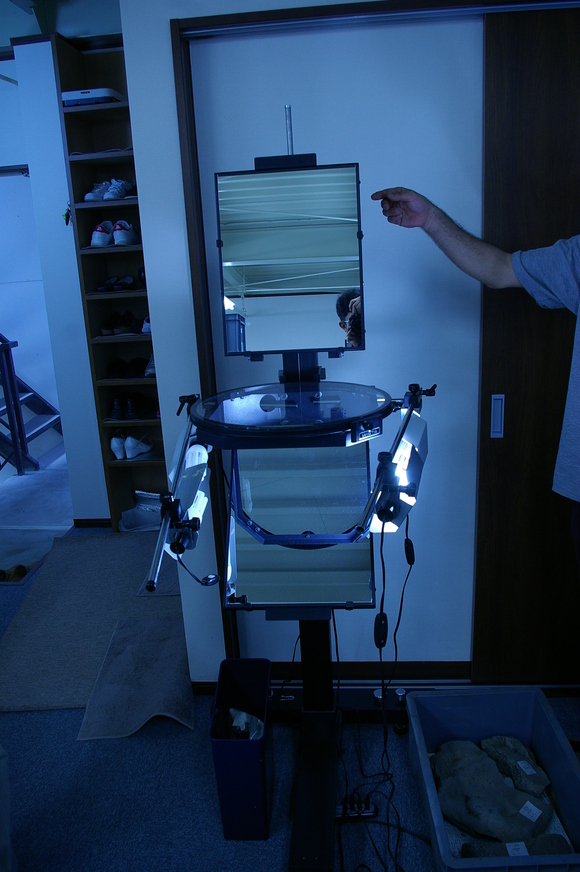 By the way...nowadays we have many commercial based company those which engage archaeology especially in preventive excavation. Some are general company which contract all procedure of excavation and documentation. Some are providing workers and machineries. some are contracting specific operation, such as measurement survey, aerial photography, scientific analyses, taking photos and drawings and so on. Archaeo-Research Co.,Ltd. is one of commercial based archaeological company. They innovate their original photography system easily taking orthographic projected photos of artefacts.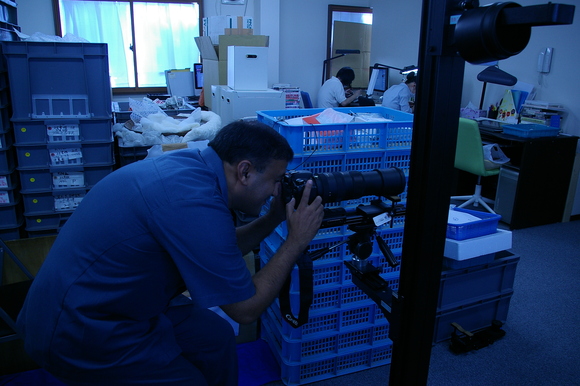 Core of their system is very simple; composed with turn table and 2 mirrors. Those 2 mirrors project both dorsal and ventral surfaces of artefact. Turn table can be set by each right angles accurately.
Moving camera up and down on stand, then we can take dorsal and ventral surfaces and side view. After turning table by each right angle, we can take 4 side views. Then arranging those photos on PC, we can get accurate orthographic projection of artefacts. It is easy to draw outlines by directly tracing photos on pen tablet. Arrangement of photos or drawing outlines are available by commercial graphic application; such as Adobe Photoshop, Illustrator and so on.
Prof.Mallah is very fascinated with this system, because he holds huge amount of stone tool collection from Rohri chert source sites...
I think he imagines to introduce this and arranging digital photo archives of collection...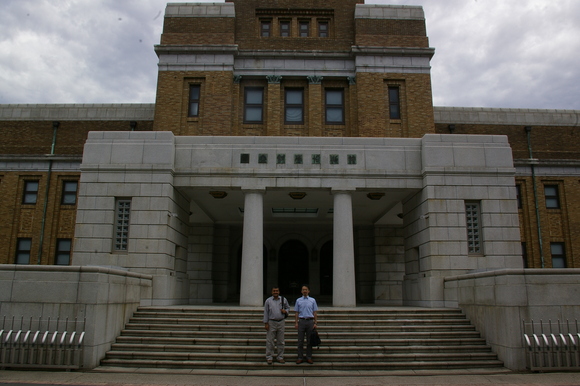 On 22 June, we have visited National Museum of Nature and Science at Ueno.
The museum has rich collection and exciting exhibition.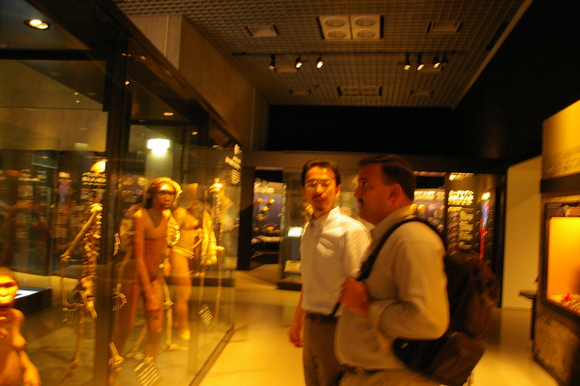 At first we looked exhibition of anthropological section with guidance of Dr.Kaifu who designed this updated exhibition.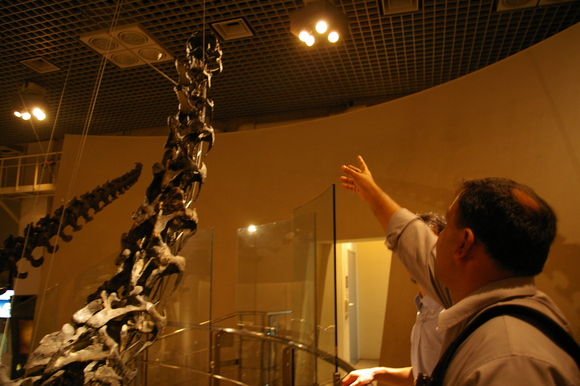 Then we looked around exhibitions in new building. Prof.Mallah look up a reconstruction model of huge dinosaur skeleton.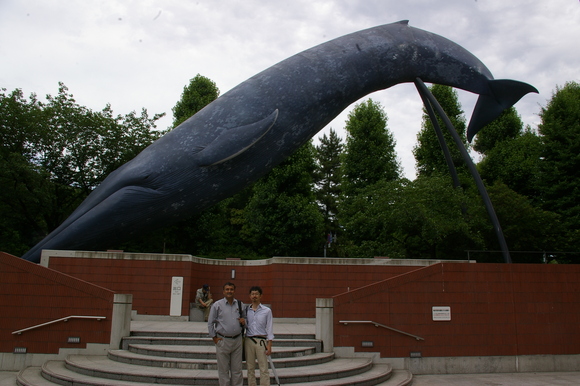 We spent around 2hours in the museum.
This is a real-size statue of Fin Whale in front of the museum.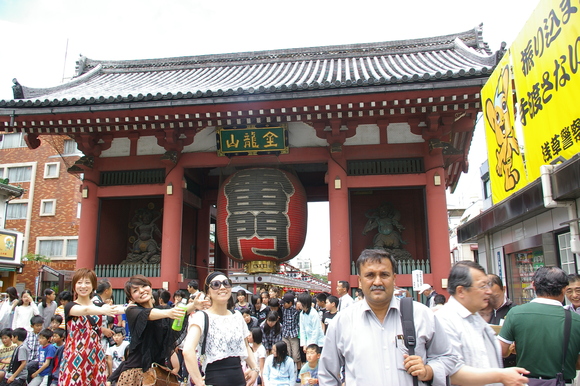 We have moved to Asakusa after lunch.
Kaminari-Mon
was occupied so many tourist even though weekday. There are many souvenir shops along approach pavement to
Senso-ji
Temple. Prof. Mallah got something for himself and his family.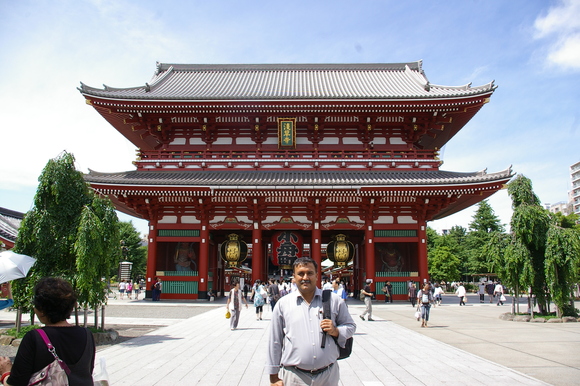 This is the main entrance gate of
Senso-ji
. The temple is the one of the oldest Buddhism temple in Tokyo. It was very famous religious centre once. Nowadays, it become a centre of tourism in historic Tokyo city.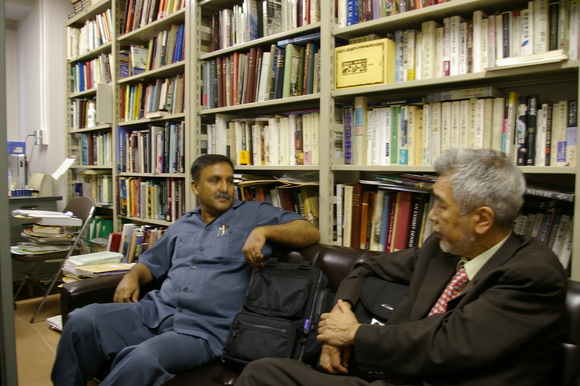 On 26 June, Prof.Mallah have given lecture on 'Preservation and Management of Cultural Heritage in Sindh, Pakistan: problem and perspective' (
see abstract
) at Meiji University.
It was really excellent lecture.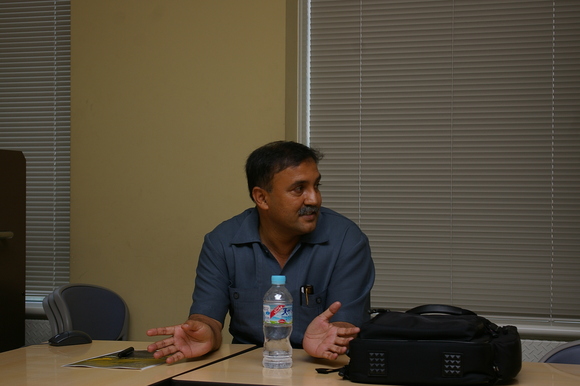 We knew difficult condition of heritage in Sindh, caused by destructive development, academic negligence and natural agency (especially salinity effect).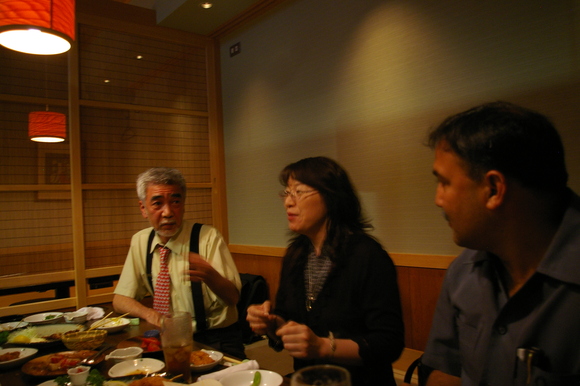 Then we moved to Shinjuku to have dinner with Prof.Yajima, Prof.Kondo and Dr.Yamahana. We were talking and eating too much...
The lecture will be published from Meiji University and we will upload it on our web-site. Please wait a moment.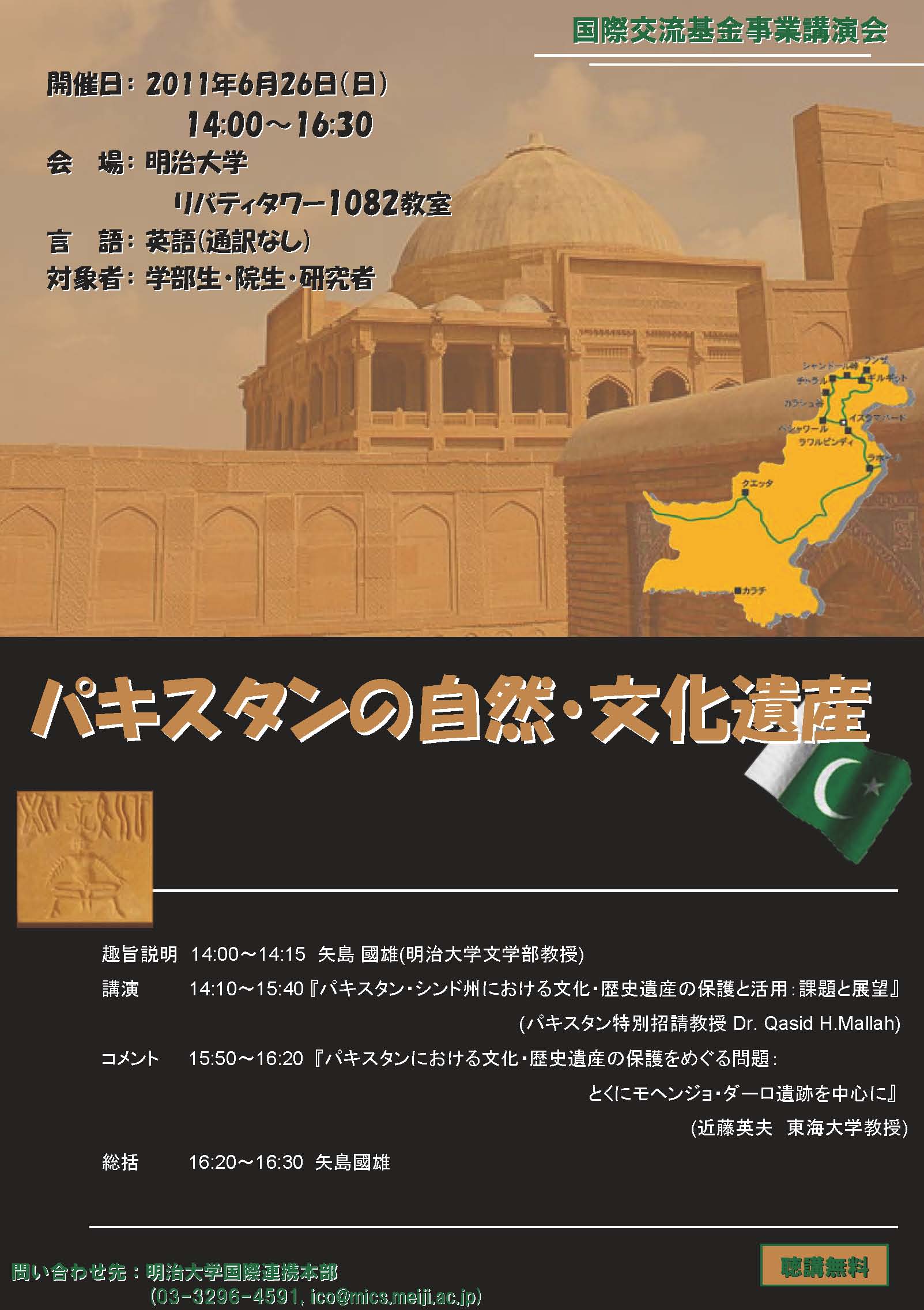 現在、日本に滞在中のパキスタン、シャー・アブドゥル・ラティーフ大学考古学研究室主任、Q.H.マッラー教授(Dr.Qasid.H.Mallah)の講演会のご案内です。
 Q.H.マッラー教授は、米ウィスコンシン大学で博士号を取得され、現在シャー・アブドゥル・ラティーフ大学の考古学研究室の主任を務められています。パキスタンでもっとも精力的に研究を進められているインダス文明の研究者であり、2008年に
Science誌の特集記事
に取り上げられたこともあります。またインダス文明に限らず、所属大学を中心としたシンド州北部=インダス川下流部の平原・砂漠地帯をフィールドとした総合調査、地域研究も推進されています。
 マッラー教授の所属するシャー・アブドゥル・ラティーフ大学(Shah Abdul Latif University)は、パキスタンの南東部を占めるシンド州の北部、ハイルプール(Khairpur)にあります。インダス文明最大の都市として有名なモヘンジョ・ダーロ遺跡からも近く、一帯には多数の遺跡が分布しています。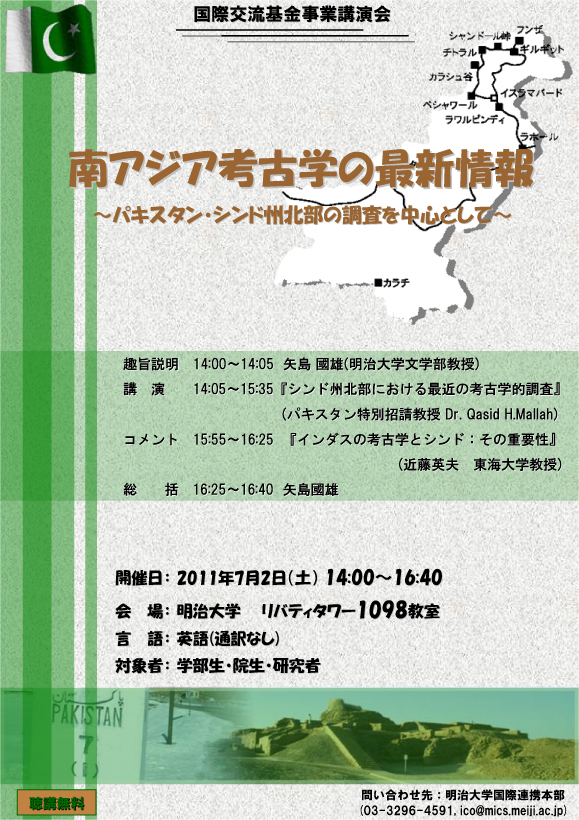 6/26の講演では、モヘンジョ・ダーロ遺跡をはじめとするシンド州各地の文化・歴史遺産について紹介いただくとともに、保存と活用をめぐる現状と課題、展望をお話しいただく予定です。
 7/2の講演では、シャー・アブドゥル・ラティーフ大学が取り組んできたインダス文明期の遺跡ラカンジョ・ダーロの発掘調査をはじめ、シンド州北部における最新の考古学的調査の成果についてお話しいただく予定です。
 7/6の講演では、石器製作の原材料となる良質なチャートの産出地として知られ、前期旧石器時代~インダス文明までのきわめて多数の石材採掘・石器製作遺跡が残されているローフリー丘陵とその周辺に焦点を当てて、各時代の石材採掘・石器製作遺跡の様相とその意義についてお話しいただく予定です。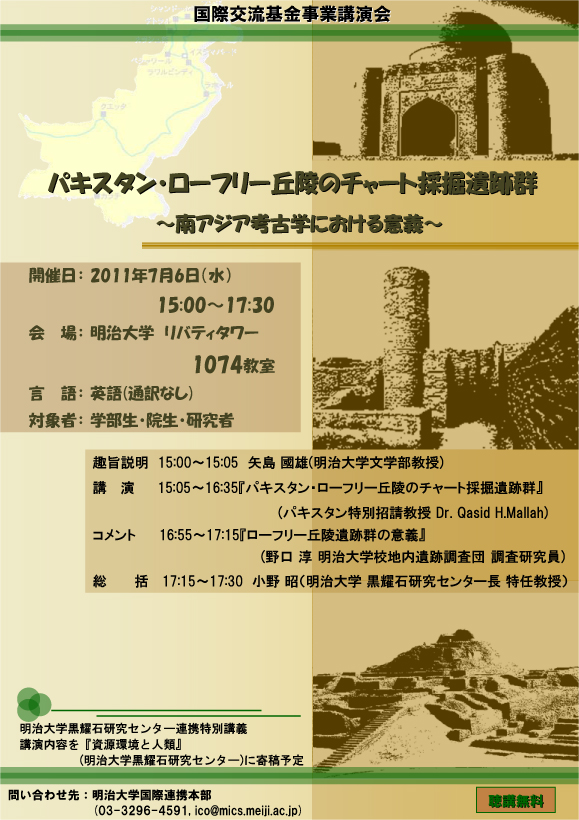 講演はすべて英語で、逐次通訳は行なわれません。ただし日本語の要旨が配布され、コメント・解説も日本語で行なわれます。事前の申し込みは不要、参加費は無料です。
 なかなか触れることのない、南アジアの考古学について、最新の調査成果を知ることのできる絶好の機会です。ご興味をお持ちの方は、ふるってご参加ください。
 なお講演の内容については、マッラー教授ともどもインターネット上で概要を公開するべく準備中です。
 また国内の学術誌・紀要等に寄稿(翻訳または英文)する予定もあります。期待してお待ちください。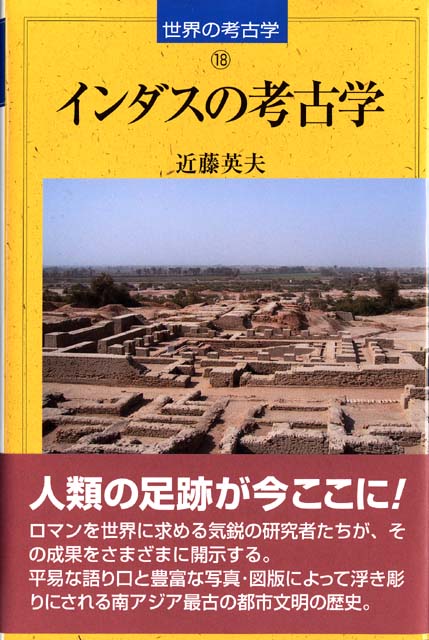 <南アジア、とくにインダス文明の考古学的調査・研究について予習したい方は、こちらをどうぞ。

インダスの考古学(同成社刊)
Prof.Mallah will give us 3 lectures at Meiji University as follows:
#1
'Preservation and Management of Cultural Heritage in Sindh, Pakistan: problem and perspective'
on 26th June
#2
'An overview on the Recent Archaeological Research in Northern Sindh, Pakistan'
on 2th July
#3
'Earliest Chert Extracting Quarries: a view from archaeological explorations in and around Rohri Hills, Sindh, Pakistan'
on 6th July
Now we're arranging to open abstracts of those lectures on internet. I will update further information soon later.
Also papers concerned with those lectures will be published in journals and proceedings (Japanese translation or English).
Memory of days in Tokyo #1: 16-17 June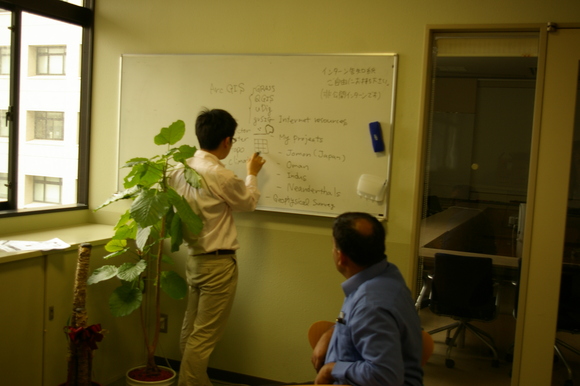 On 16th, we have visited Dr.Yasuhisa Kondo's labo in
Tokyo Institute of Technology
. Yasuhisa is one of vigorous GIS archaeologist in Japan. He gave brief lecture on application of GIS to Prof.Mallah.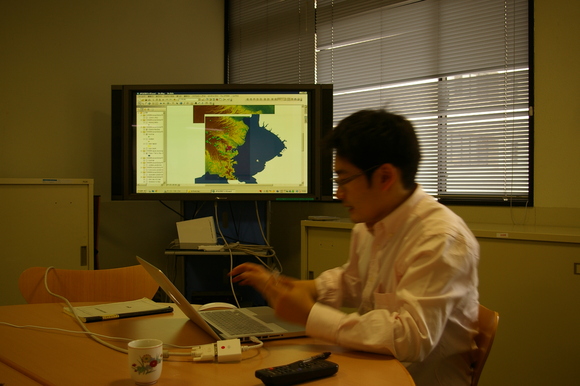 If you are interested with Yasuhisa's work, please visit his web-site (
click here
).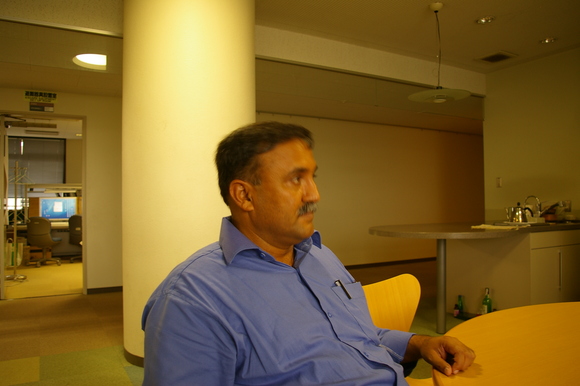 Prof.Mallah puts on a serious expression. He is very eager to introduce GIS into his department.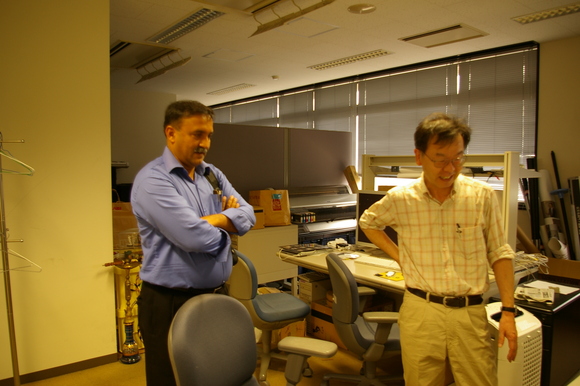 Then we take a brief presentation of Prof.Kamei, expert of geophysical probing of archaeological site, GIS and database).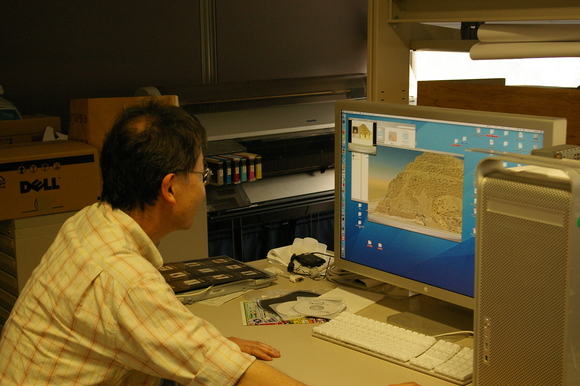 Prof.Mallah is fascinated with Prof.Kamei's incredible work on digital 3-dimensional reconstruciton of Ancient Egypcian Tomb.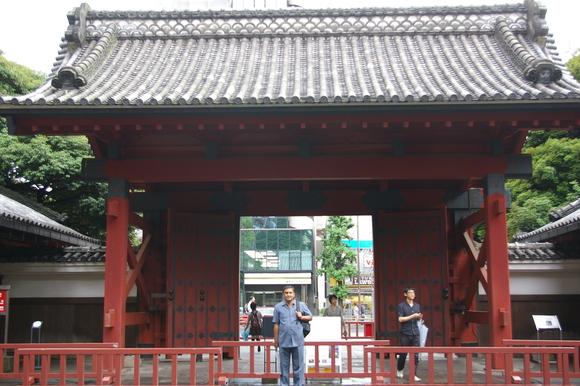 On 17th, we have visited
the University Museum, the University of Tokyo
, to see their exhibition.
This is the famous
Akamon
, preserved entrance gate for former
Daimyo
's residence established in 1872.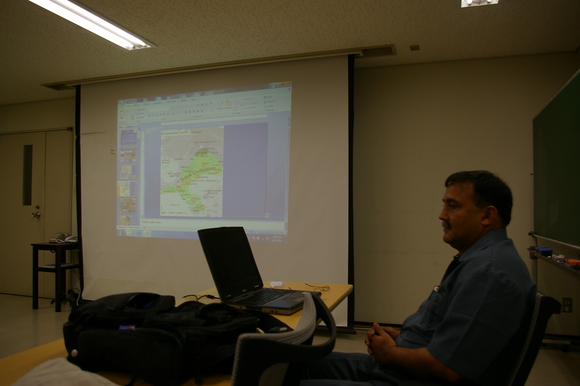 With kindly regard by Prof.Nishiaki, the Archaeological Dept. of the Museum, Prof.Mallah gets opportunity to give lecture for graduate students and research fellows.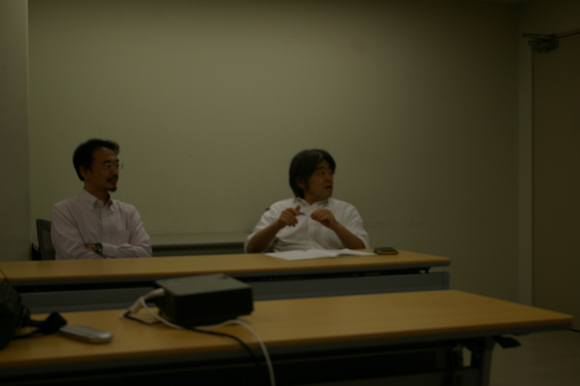 Prof.Nishiaki and Dr.Kaifu from National Museum of Nature and Science.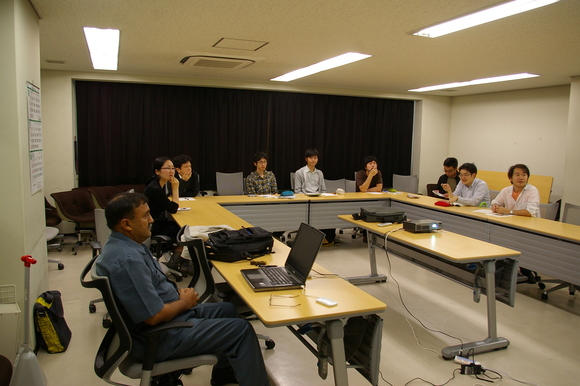 Prof.Mallah and participants. The lecture is focused on Palaeolithic and Mesolithic in Rohri Hills and Thar Desert. All participants are very eager, so Prof.Mallah is really honored to give his lecture to them.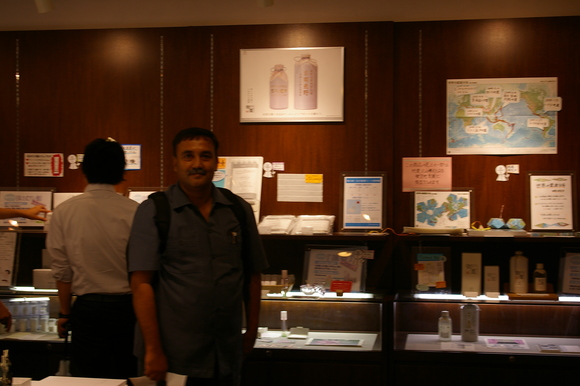 Then we are walking within the university campus for an hour. Prof.Mallah gets some souvenir in special gift shop of the university.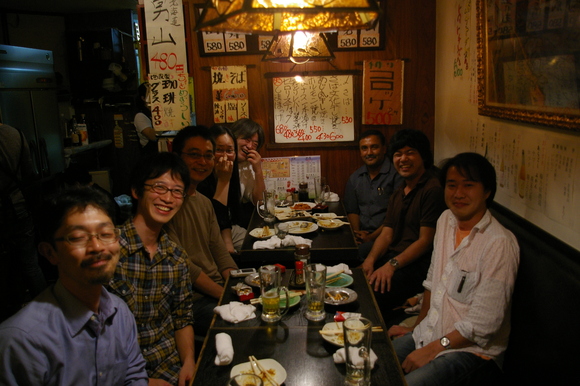 After we have dinner nearby the university.
It was also exciting days for us. Thank you for all concerns!
Memory of days in Tokyo #1: 12-15 June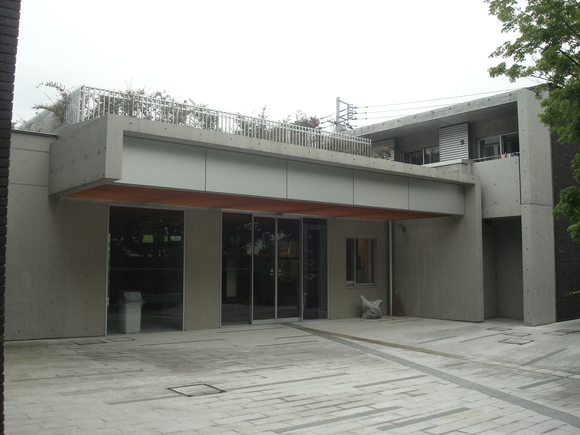 Prof.Mallah has arrived at Narita International Airport on 12 June. We invite him by International Exchange Programme of Meiji University(MU) for a month. Now he stays in new-opened MU Izumi International House. It is at
Meidai-mae
5minutes off Shinjuku.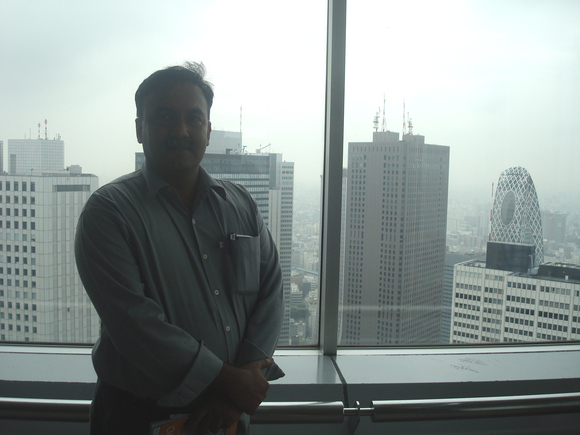 On 13th, the first day in Tokyo, we have dropped in Tokyo Metropolitan Government Building on the way to Meiji University Main Campus,. Unfortunately it was foggy so we couldn't see clear view from 220m above sea level...It wasn't possible to see Mt.Fuji.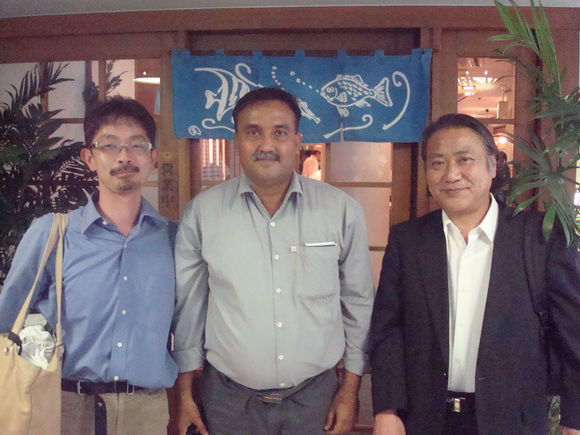 At Main Campus of MU, Prof.Mallah met so many people...then we; Prof.Yajima as host of invitation, Prof.Mallah and I were coming to the famous
Tempura Restaurant in the Hilltop Hotel
.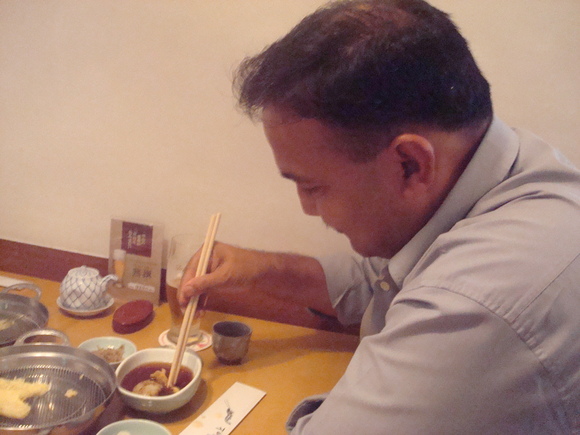 Prof.Mallah is very excellent to use chopstick.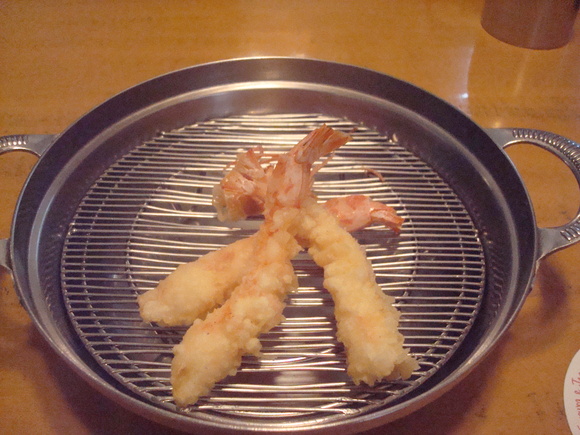 We had a course of Tempura. This is Japanese tiger prawn.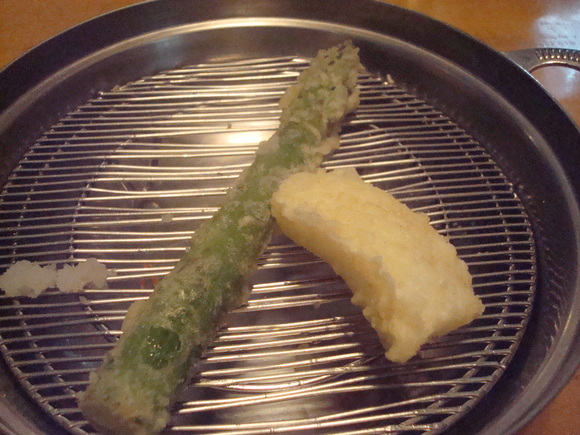 Green asparagus and squid. After, sillago,
Megochi
(Suggrundus meerdervoortii), onion and bell pepper, then conger. We were fulfilled with those tasty Tempura and fruitful conversations.
On 14th, we have visited
Ancient Orient Museum, Tokyo
to see their exhibition and to meet Dr.Uesugi. Prof.Mallah was pleased reunion with Dr.Uesugi.
(sorry no picture here)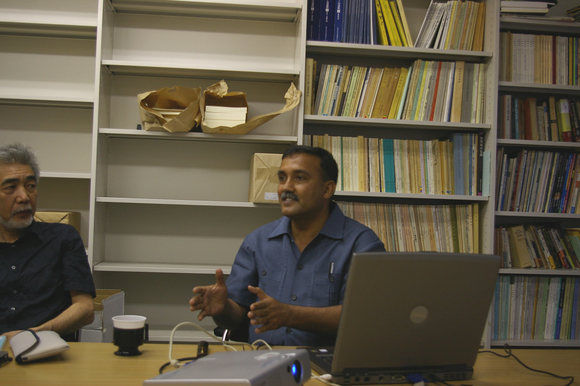 On 15th, Prof.Mallah gave special lecture on the general view of pre- and proto-historic studies of Pakistan, in Tokai University.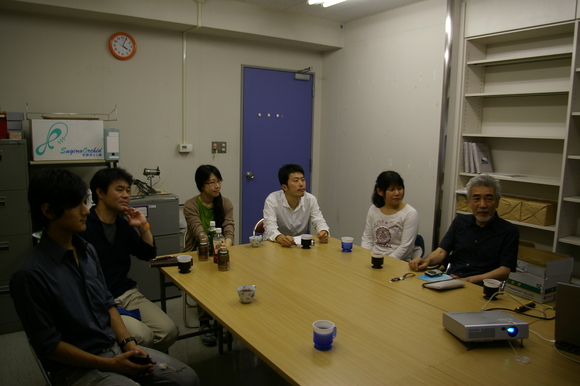 It was well-arranged lecture. So we could know the essential of Pakistani archaeology.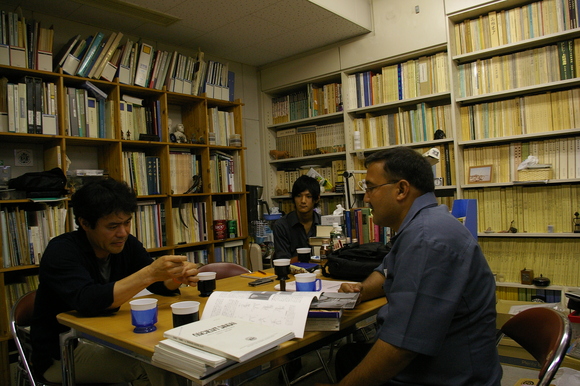 After his own lecture, Prof.Mallah took a short but special lecture with experiment on Jomon cord-marking by Mr.Miyahara, a lecturer of Tokai University.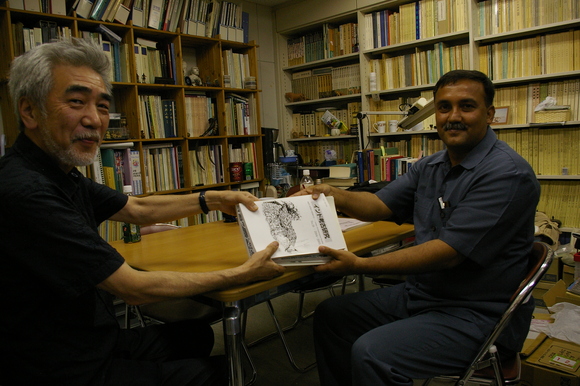 Then Prof.Kondo, as the president of Indian Archaeology Society of Japan, gifts volumes of the journal
Indo-kouko-kenkyu
to Prof. Mallah.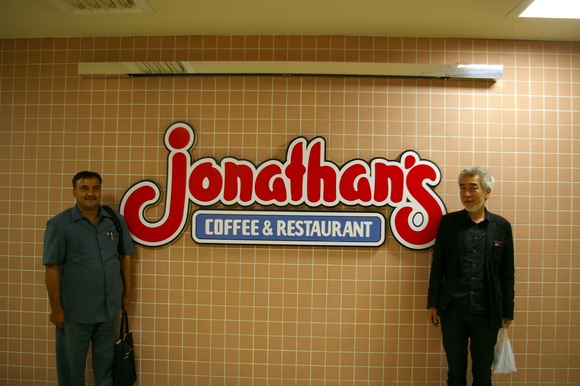 Then we had our dinner at popular chain restaurant. Prof.Mallah was very interested with the name of restaurant...it is 'Jonathan's'. So this is very funny picture...Jonathan's professors.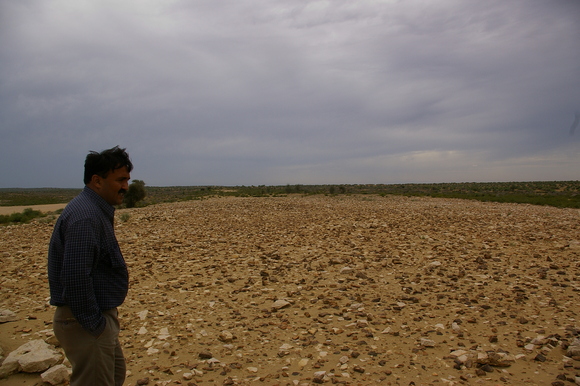 A friends comes from Pakistan- Prof.Qasid H. Mallah from Shah Abdul Latif University Kharipur, one of the most active Indus archaeologist in Pakistan (see special issue in
Science
) is invited by International Exchange Programme of Meiji University. He will stay in Tokyo until 9 July and give us 4 time of lectures.
(Prof.Q.H.Mallah @Thar, Mar 2007)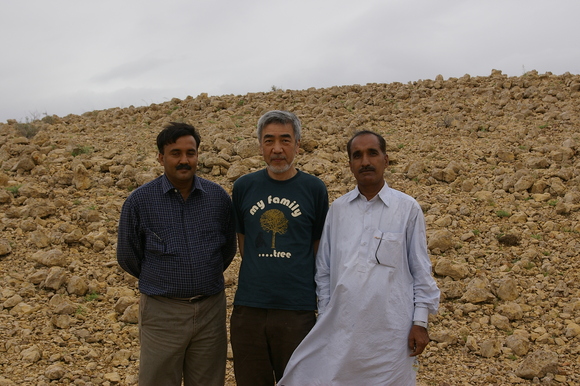 It was March, 2007 to see him at Khairpur. He guided us to Palaeolithic~Indus sites in Thar region. It was really memorable experience for us with Prof.Mallah's exciting driving.
(Prof.Mallah, Prof.Kondo&Prof.Veesar @Thar)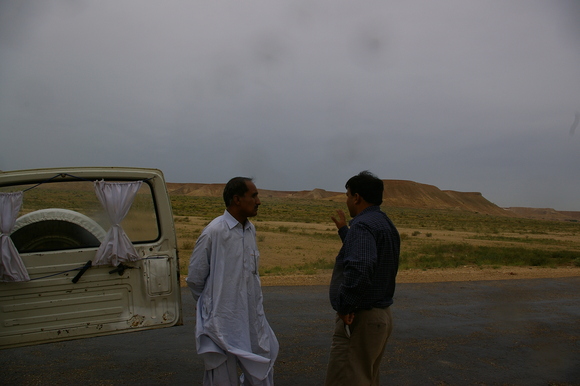 His main research field: Rohri Hills and Thar Desert include big potential for South Asian archaeology. So this time we get chance to touch updated information about his recent achievement. It should be great pleasure for us.           (Prof.Mallah &Prof.Veesar)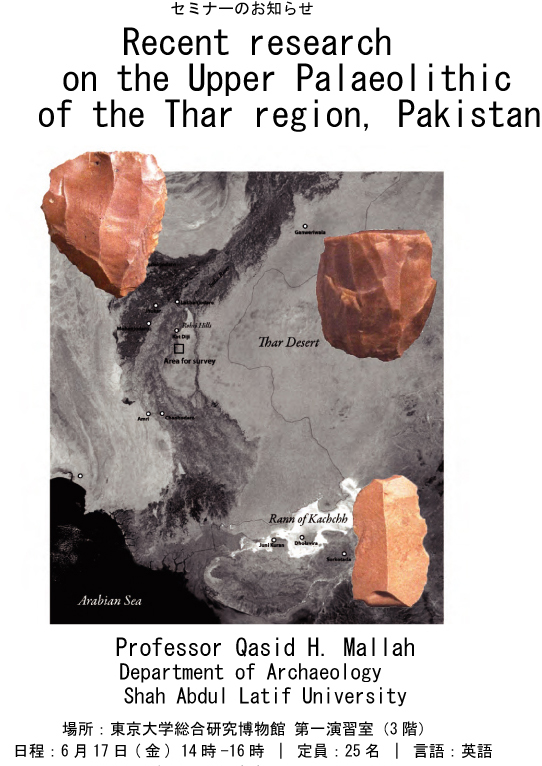 6/12~7/9までの間、パキスタン、Shah Abdul Latif大学のQasid H.Mallah教授が、明治大学の招聘プログラムにより東京に滞在されます。
 Mallah教授は、今日のパキスタンでもっとも精力的なインダス考古学の研究者として
Science誌の特集記事
でも紹介された方です。巨大なチャート原産地であるRohri丘陵、Thar砂漠地域とその周囲を研究のフィールドとし、多くの重要な遺跡を発見、調査されています。
 今回の来日期間中に、4回のレクチャーが開催されることになっています。ふだん、なかなか触れる機会のないパキスタンの考古学、とくに旧石器時代~インダス文明期についての最新の調査成果を知る絶好のチャンスですので、興味をお持ちの方はぜひご参加ください。
 とりあえず、直近のレクチャーについて、左に案内を添付しておきます。
 このほかのレクチャーと、滞在中の動向についてはまた後ほど。