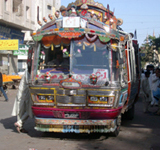 カテゴリ
PJAM2012
3.11 Earthquake
Archaeology(English)
India2011
日々のできごと/ Daily life
アジア/ Asia
おでかけ/ Japan
南アジア考古学/SA Arch.
野川・多摩川/RegionalStudy
旧石器考古学/Palaeolithic
砂川・武蔵野台地北部
考古学(ジオ)
考古学(いろいろ)
雑記
最新の記事
最新のトラックバック
以前の記事
2012年 08月
2012年 04月
2012年 03月
more...
ライフログ
Ninja analyse
その他のジャンル
ファン
記事ランキング
ブログジャンル
画像一覧
I am engaging to edit the excavation report of Shimohara & Fujimi-cho sites.
The first volume on Modern Age excavation is already published. I should complete the second volume on Jomon Age until the end of this fiscal year 2011.
Now I am researching about regional aspect of Jomon sites distribution in behavioural context...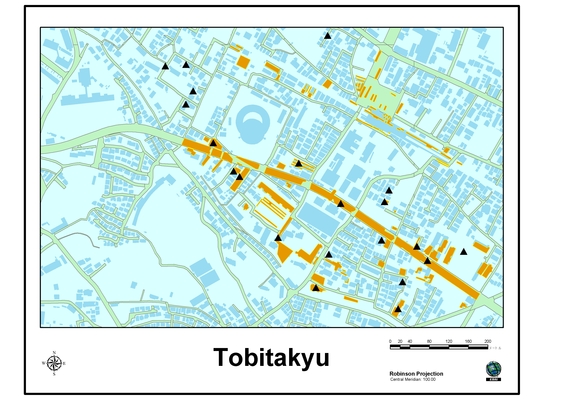 This map is not for my sites. Neighboring
Tobitakyu
site, 3km south of my sites and located beside Fuchu cliff-line which divided the Late Pleistocene upland from the Holocene alluvial plain.
Orange shadows are excavated area until now. Many preventive excavation are carried out before construction of roads, railways and buildings. This is not special case but common in Tokyo.
Black triangles indicate localities in which Jomon structures or artefacts were uncovered.
These series of maps are generated by Arc GIS with Tokyo Digital map (1:2,500 topography datum).
As you see, distribution of Jomon localities are obviously concentrated in southern and western part of the site. Otherwise there is no Jomon locations in northern part.
Locations of the Ancient Age are distributed in northern part. So this map shows trend in Jomon locations distribution.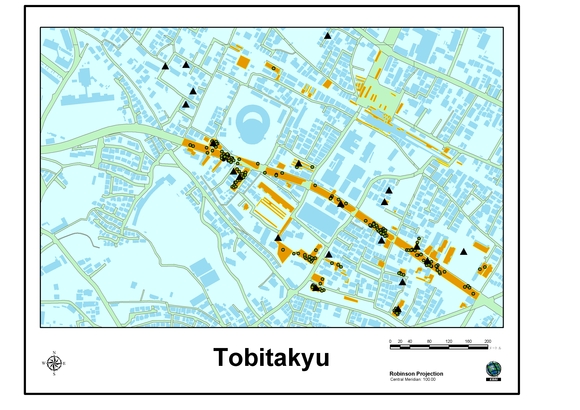 This seems as same as former one, but you can see small green dots in excavated Jomon locatlities. These dots indicate actual position of uncovered Jomon structure, such as dwelling pits, stone heaps in pit or other unknown pits.
There is a long excavated area on road, like across southern part of the site. Distribution of structures inside this locality is not evenly nor random, but concentrated in some locations.
'The Site' is not massive nor evenly substance. Sites are consisted with many localities.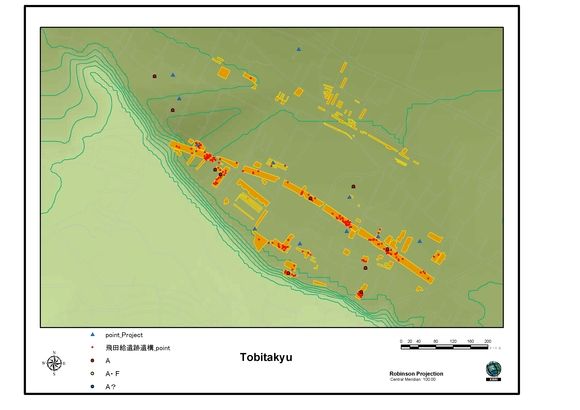 This is a same map as second one but changing background to contour and gradation map generated from 10m-mesh DEM by GSI Japan. It is clear that most effective factor is distance from cliff-kine. However micro-sale correlation between geomorphology and each Jomon localities are no clear in this resolution level. It must be examined with more detailed datum or another approach.
Further research:
Up to now, most research on distribution or territoriality are discussed on small-scale topography map (e.g.1:25,000 or smaller scale). In those case, 'a site' was expressed as simple dot without any spatial expanse and diversity.
However our generated map shows obviously diversity and non-evenness within such a 'simple dot'. 'A site' should contain various localities of activities and even blank area between such localities.
In our case, there is two different tendency. Along the cliff-line, density of activity indicated with number of structures is continuously fluctuated. Otherwise off the cliff-line, density of activity seems suddenly disappeared. This indicate obviously difference on land utilization pattern by Jomon people. Their activity is clearly concentrated along cliff-line.
Research and analysis on other sites are on going now. Also we set further information such as chronology (more resolved), type of structure, associated artefacts and so on.
I will show next step of our progress later...wait for a moment!
Now I am building up web-site on Shimohara and Fujimi-cho sites excavation. For the moment it is opened with tentative limited contents. If you have interesting with our excavation and research, please visit my web-site (
click here
).
Acknowledgement:
Ms.Mayumi KURASAWA and Mr.Masahiro ICHIKAWA are gathering information, operating GIS application and generating maps shown here.