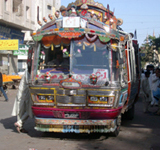 | | | | | | | |
| --- | --- | --- | --- | --- | --- | --- |
| S | M | T | W | T | F | S |
| | | | | 1 | 2 | 3 |
| 4 | 5 | 6 | 7 | 8 | 9 | 10 |
| 11 | 12 | 13 | 14 | 15 | 16 | 17 |
| 18 | 19 | 20 | 21 | 22 | 23 | 24 |
| 25 | 26 | 27 | 28 | 29 | 30 | 31 |
カテゴリ
PJAM2012
3.11 Earthquake
Archaeology(English)
India2011
日々のできごと/ Daily life
アジア/ Asia
おでかけ/ Japan
南アジア考古学/SA Arch.
野川・多摩川/RegionalStudy
旧石器考古学/Palaeolithic
砂川・武蔵野台地北部
考古学(ジオ)
考古学(いろいろ)
雑記
最新の記事
最新のトラックバック
以前の記事
2012年 08月
2012年 04月
2012年 03月
more...
ライフログ
Ninja analyse
その他のジャンル
ファン
記事ランキング
ブログジャンル
画像一覧
Fish Market in my town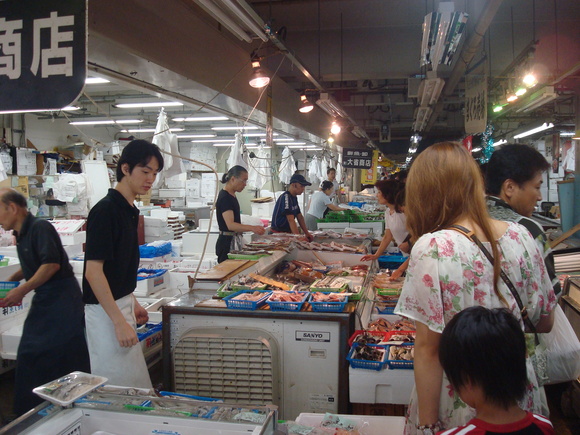 Our family often come to fish market in our home town on Saturday morning.
Our town is about 50km distant from sea, but whole seller transport fresh fishes every morning except Sunday. So we can take fresh fishes every time we want. The market opens only in morning. For us, it is difficult to come there in weekday. So we come on Saturday.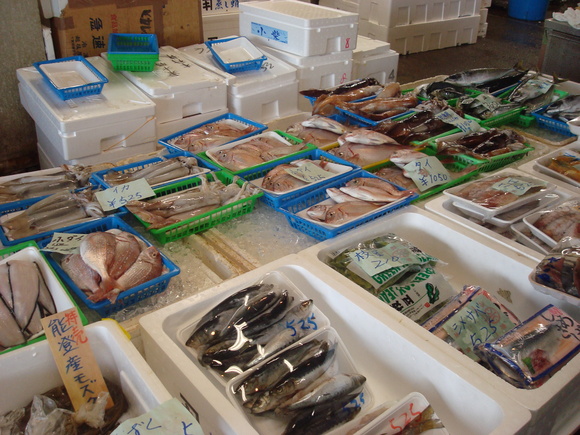 There're so various fresh fishes in the market. We are always wavering which one we'd better to take...fishes of ocean, coastal, in season, other kind of seafood such as squids, seashells and so on.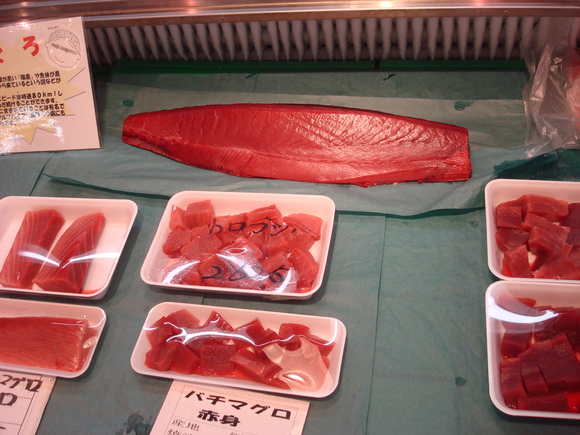 These are variety of tuna (Bigeye tuna:
Thunnus obesus
/ '
Mebachi Maguro
' in Japanese). As you know, tuna is so large (around 2-3m). So shops serve them in sliced.
Japanese people loves tuna very much but now almost tunas are faced to threat of extinction...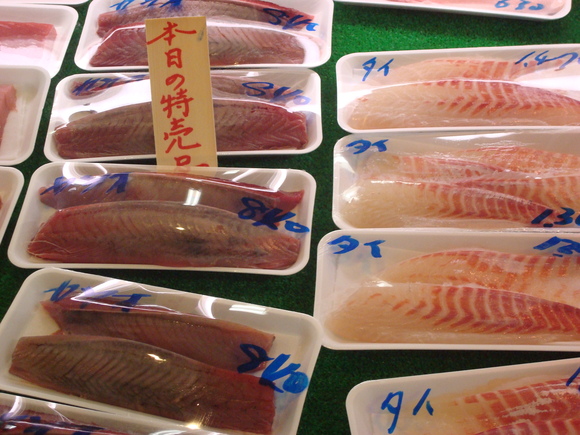 These are sliced Skipjack tuna (
Katsuwonus pelamis
/ '
Katsuo
') in right, and Japanese red seabream (
Pagrus major
/ '
Madai
'). Both of them are also relatively large (around 0.5-2m) so they are served in sliced too. And both of them are very suitable for
Sashimi
(sliced raw fish usually served with soy sauce and wasabi). We took Skipjack tuna in this time.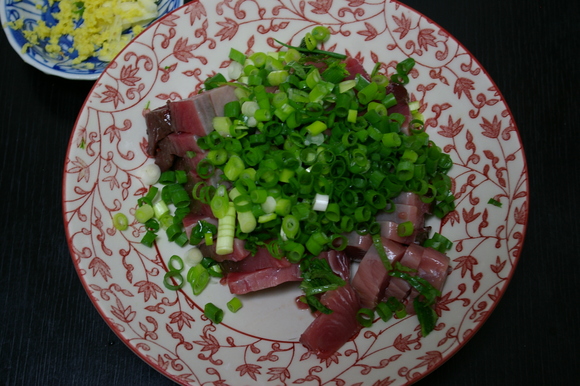 This is a Sashimi dish of Skipjack tuna in our dinner, served with chopped tiny leek, grated garlic and ginger, and soy sauce. Of course it is so yummy :D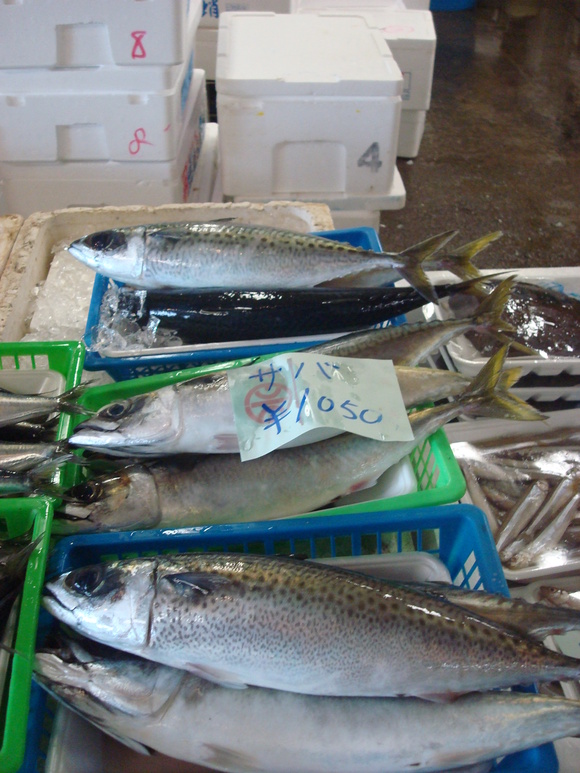 Tunas are oceanic fishes. And there're also various coastal fishes. These are Chub mackerel (
Scomber japonicus
/ '
Masaba
'). These are served as marinade ('
Sime-saba
'), simmering with soy paste (as known as '
Miso
'), grilling with salt or dried fish.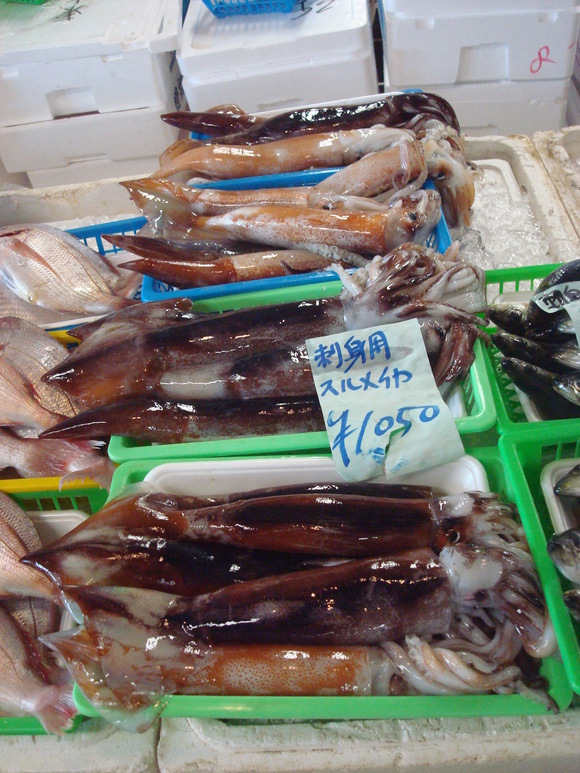 These are Japanese flying squid (
Todarodes pacificus
/ '
Surume ika
'). We Japanese like variety of squids too. Fresh squids are suitable for
Sashimi
. Also we have various recipe for squids: simmering, boiling, grilling, and dried 'Surume ika' is very popular.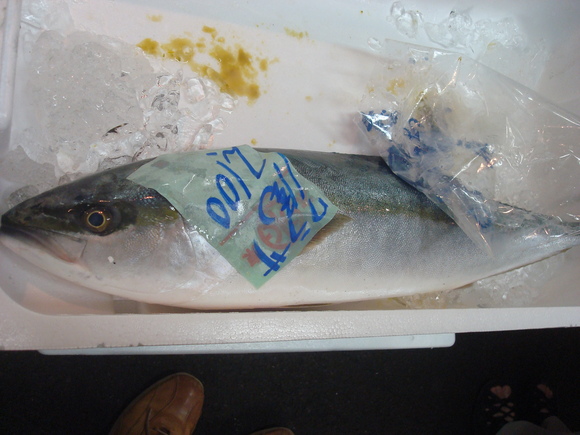 This is a Japanese amberjack (
Seriola quinqueradiata
/ '
Buri
'), maybe this is cultivated. Fish cultivation is very major in Japan. Various fishes, seashells and seaweeds are cultivated.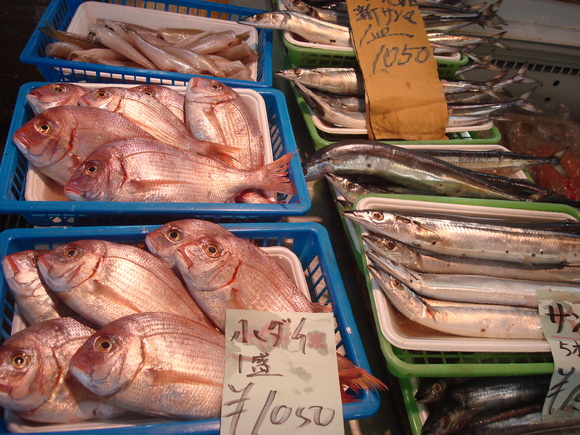 Another coastal fishes are here. Japanese red seabream in right, and Pacific saury (
Cololabis saira
/ '
Sanma
'). Tunas, mackerels and seabremas are living in tropic to temperate zone, but sauries are living in northern cold current.
We have rich marine resources because of both warm and cold current meet off Japan. We can get tropic, temperate and cold zone fishes.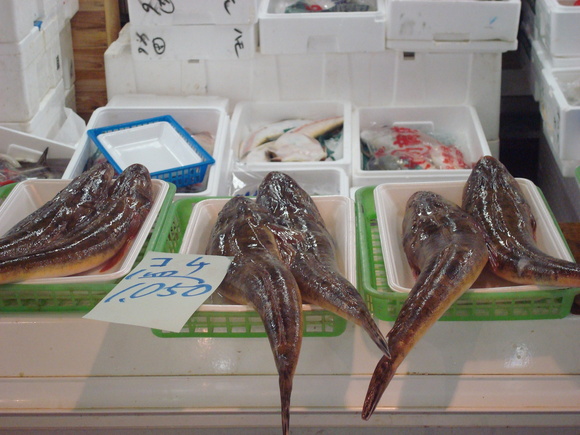 Local fishes are also favorite of Japanese. These are '
Magochi
' (
Platycephalus
sp.). Benthos fish, grown up 30-100cm.
Sashimi
, simmering and
Tempra
are good.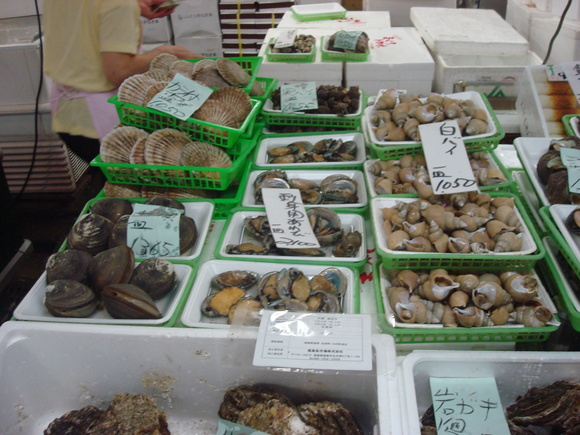 We Japanese like seashells too. We have so various seashells...it is continued from 10,000 years ago Jomon Age :)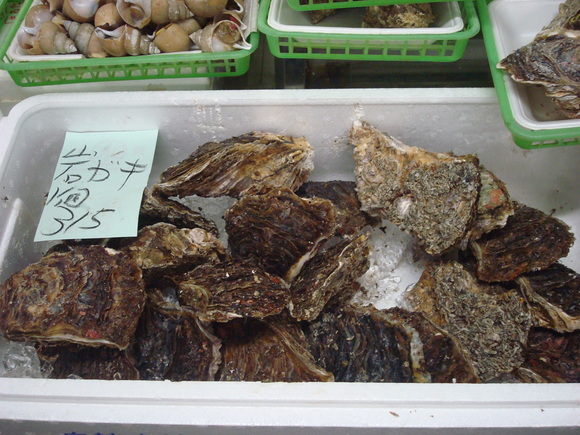 These are Japanese rock oyster (
Crassostrea nippona
/ '
Iwagaki
'). This species are now in season.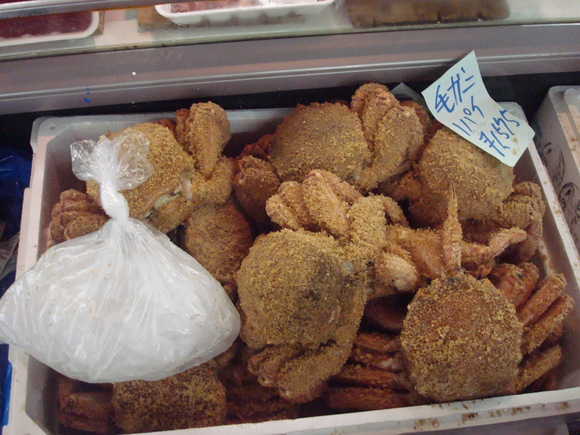 We also love crabs. These are Horsehair crab (
Erimacrus isenbecki
/ '
Kegani
') from cold north western Pacific. Boiling is popular recipe for them.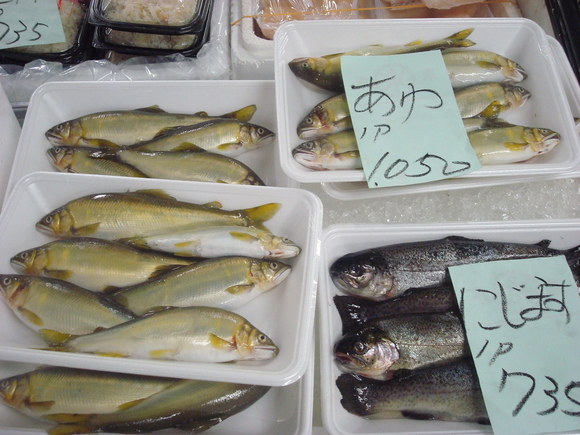 These are fresh water fishes: '
Ayu
' (
Plecoglossus altivelis altivelis
) and Rainbow traut (
Oncorhynchus mykiss
/ '
Nijimasu
'). The latter one is not original species in Japan, but introduced in recent.
These are only very small portion of our menu. We have much various fishes in each regions and seasons. We Japanese have particular gene of fish-eater inherited from our ancestor in Jomon Age.
However now we face to radioactive contamination in ocean...coastal fishery along north-eastern part of Japan are heavily damaged. Accumulation of radioactive contamination through food chain is actually effected to some species. For the moment, high-level contamination seems limited off Fukushima Pref. However we don't know detail of low-doze contamination dispersal into ocean... Not only in sea, but also inland fresh water contamination in and around Fukushima Pref. are another problem. We cannot estimate how affect in total, until now...