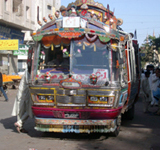 | | | | | | | |
| --- | --- | --- | --- | --- | --- | --- |
| S | M | T | W | T | F | S |
| | | | | 1 | 2 | 3 |
| 4 | 5 | 6 | 7 | 8 | 9 | 10 |
| 11 | 12 | 13 | 14 | 15 | 16 | 17 |
| 18 | 19 | 20 | 21 | 22 | 23 | 24 |
| 25 | 26 | 27 | 28 | 29 | 30 | 31 |
カテゴリ
PJAM2012
3.11 Earthquake
Archaeology(English)
India2011
日々のできごと/ Daily life
アジア/ Asia
おでかけ/ Japan
南アジア考古学/SA Arch.
野川・多摩川/RegionalStudy
旧石器考古学/Palaeolithic
砂川・武蔵野台地北部
考古学(ジオ)
考古学(いろいろ)
雑記
最新の記事
最新のトラックバック
以前の記事
2012年 08月
2012年 04月
2012年 03月
more...
ライフログ
Ninja analyse
その他のジャンル
ファン
記事ランキング
ブログジャンル
画像一覧
Days in Tokyo, with Prof.Mallah#4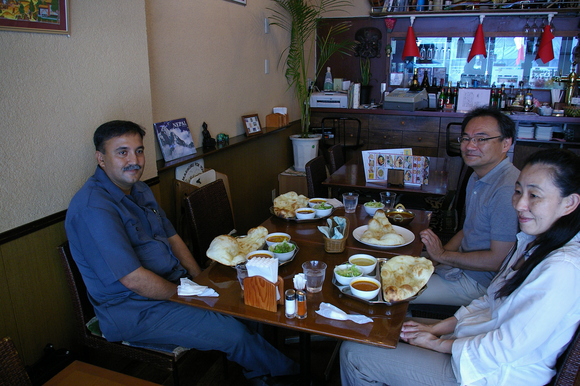 On 28th June, we have visited Archae-Research Co.,Ltd. at Itabashi ward, Tokyo.
At first we had our lunch at 'Indian' restaurant managed by Nepali resident... In Japan, we have so many 'Indian' restaurants but some of them should be Pakistani or Nepali...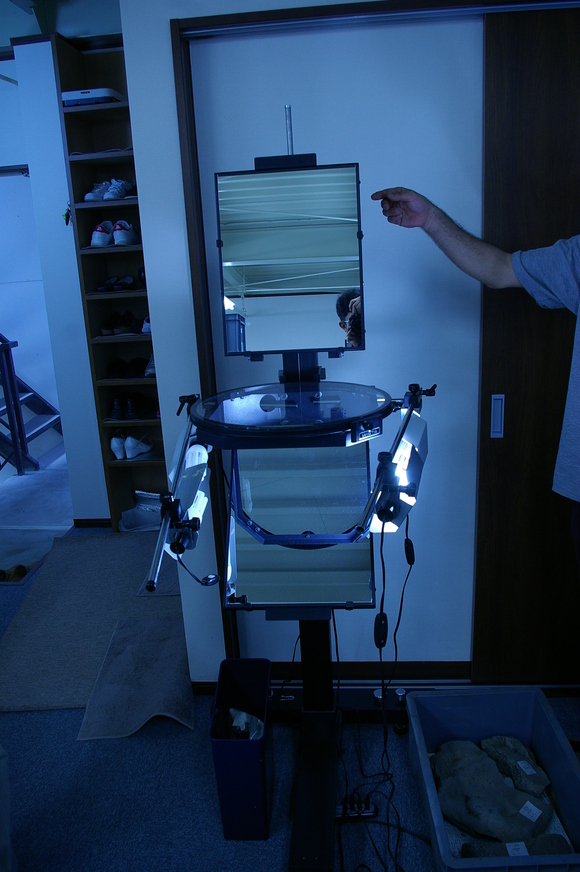 By the way...nowadays we have many commercial based company those which engage archaeology especially in preventive excavation. Some are general company which contract all procedure of excavation and documentation. Some are providing workers and machineries. some are contracting specific operation, such as measurement survey, aerial photography, scientific analyses, taking photos and drawings and so on. Archaeo-Research Co.,Ltd. is one of commercial based archaeological company. They innovate their original photography system easily taking orthographic projected photos of artefacts.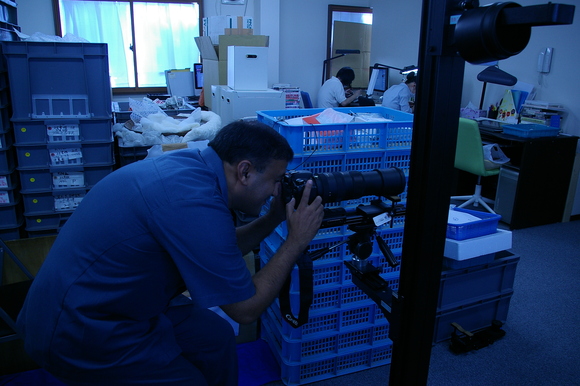 Core of their system is very simple; composed with turn table and 2 mirrors. Those 2 mirrors project both dorsal and ventral surfaces of artefact. Turn table can be set by each right angles accurately.
Moving camera up and down on stand, then we can take dorsal and ventral surfaces and side view. After turning table by each right angle, we can take 4 side views. Then arranging those photos on PC, we can get accurate orthographic projection of artefacts. It is easy to draw outlines by directly tracing photos on pen tablet. Arrangement of photos or drawing outlines are available by commercial graphic application; such as Adobe Photoshop, Illustrator and so on.
Prof.Mallah is very fascinated with this system, because he holds huge amount of stone tool collection from Rohri chert source sites...
I think he imagines to introduce this and arranging digital photo archives of collection...